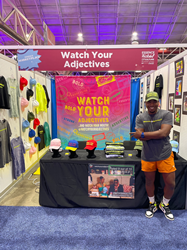 Watch Your Adjectives is breaking ground as a top-rated clothing brand deemed by industry moguls and presenting at sold out festivals

SHERMAN OAKS, Calif. (PRWEB)
July 27, 2022
Watch Your Adjectives is breaking ground as a top-rated clothing brand deemed by industry moguls and presenting at sold out festivals.
Merlin White founded Watch Your Adjectives in 2020 following a conversation with a friend which resulted in an unpleasant description of another person featuring words like unreliable, bossy, and hostile. White reminded his friend to "watch your adjectives" and a light bulb went off followed by a product with a confident message. With the hopes of combating bullying and anything in place that targets one's self esteem, White boldly presented on the center stage at the 2022 Essence Festival of Culture and shared his vision and testimony with attendees. "Mean, fat, weak, you're too bold, you're not strong enough. Those were words used to describe us." White believes that you should be able to have a temporary emotion without it becoming your label. Next, White is set to appear on the Jamir Smith Show (podcast) on July 26th 7pm EST.
After the sold-out success with the premiere of the "Unapologetic" t shirts and crop tops, Watch Your Adjectives will officially launch them and re launch its "manifest unf##kwithable goals" neon hoodie on August 1st.
About Watch Your Adjectives

Watch Your Adjectives is an apparel brand with a unique message. The vibrant neon-colored hats are meant to block the sun and any negative energy. While wearing the brand the founder, a New Orleans native and Southern University and A&M College alum, encourages creatives and independent thinkers to own their likeness and keep their emotions filter free.
Watch Your Adjectives

Merlin White, Creator

[email protected]

IG @watchyouradjectives

FB @watchyouradjectives

http://www.watchyouradjectives.com
Share article on social media or email: