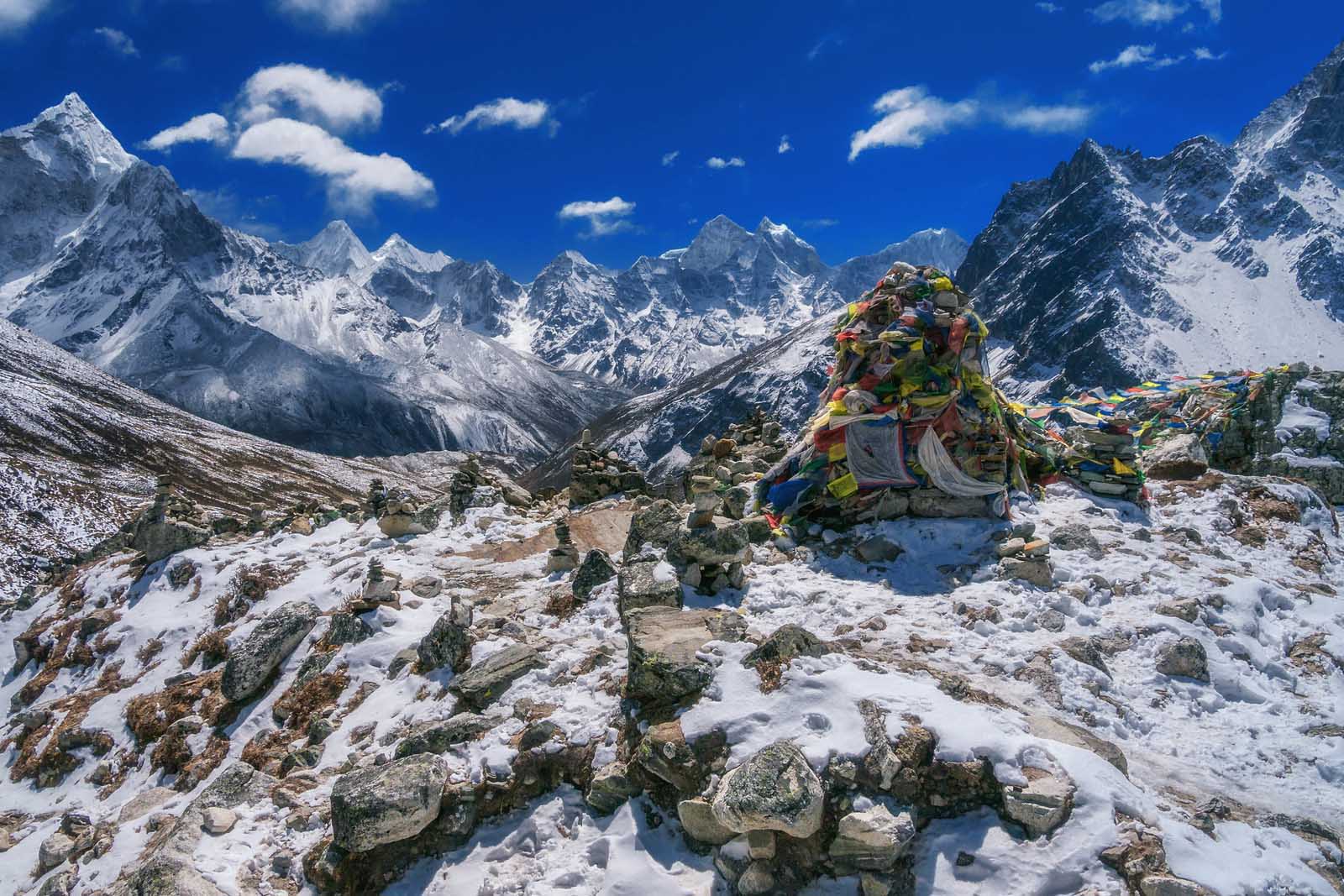 Top 13 Best Treks in Nepal
Nepal is waiting to take you away from all the noise and chaos. It's time to book a great adventure to the roof of the world deep into the heart of the Himalayas. From the Annapurna Circuit to the Everest base camp trek, Nepal it is the best trekking destination on earth and there is no better time to go than now.
Nepal filled with trekking routes outside the classic treks to keep you away from the crowds, and we asked our friend Dipendra of Simrik Nepal Treks to break down some of the best treks in Nepal. With his help and drawing from our experiences in Nepal, these are some treks to inspire you to run away from the noise and make your way to the mountains.
Best Treks in Nepal
Whether you are an experienced trekker or just dipping your toes in, get ready for Nepal trekking to ignite the adventurer in you. With its awe-inspiring mountain scenery, friendly people and well planned mountain routes complete with lodges and teahouses, there's a trek for you. If you feel that you've been cooped up in the house too long, now is the time to get outside and be at one with nature. We've broken down some of the most famous treks in Nepal to help you plan your trip.
Trekking in Nepal – A Word
Trekking in Nepal can be risky and you need to weigh all factors before considering a high altitude trek. Trekking at high elevations can cause acute mountain sickness which can lead to serious illness or even death. Make sure to listen to your body and keep an eye out for the signs of altitude sickness. If you are in moderately good shape, drink plenty of fluids, take your time and go down to lower altitude when you feel the signs of altitude sickness, you should be fine trekking through the most beautiful mountain ranges on earth.
1.   Mount Everest Base Camp Trek
Everest Base Camp Trek is one of the best treks in Nepal that offers several opportunities to view the highest mountain in the world, Mount Everest. This 16-day classic trek takes you from the streets of Kathmandu onto a scenic flight through the Himalayas to one of the highest airports in the world. The flight to Lukla is breathtaking where you'll land at the Tenzing Hillary Airport to begin the most epic hike through Sagamartha National Park.
Lukla Airport
Walk in the footsteps of legends as you follow this classes trek to Everest Base Camp starting in Lukla and hiking through the Everest region. En Route you'll visit Namche Bazaar, Tengboche Monastery, cross breathtaking suspension bridges and taking in awe-inspiring viewpoints of the highest mountains in the world including Lhotse, Changri, Ama Dablam, and Nuptse all standing tall at 8414m, 6027m, and 7861m. They are the little sisters to the highest Mountain on earth and you'll see that too! Mount Everest stands at 8848 meters and one of the best views of all the high mountains together is from a viewpoint on your acclimatization day while staying at Namche Bazaar.
The Mount Everest Base Camp trek is one of the more challenging treks in Nepal due to the fact that it is a hike through sustained elevation of Sagamratha National Park. For most of the two week hike, you'll be trekking above 4000 meters as you make your way through the Everest region to Everest Base Camp.
You don't need to carry tents as this is a teahouse trek, meaning you will stay in simple trekking lodges along the route. We have an entire breakdown of what to expect on the Everest Base Camp Trek here. For more information on climbing to Everest Base Camp, you can contact our friend Dipendra (Deep) at Simrik Nepal Treks.
Trek Duration: 13 daysMax Elevation: 5,140mStart: LuklaTrekking Difficulty: ChallengingType: Teahouse TrekBest Time to Trek: March – May & Sept – Dec
In each section of this Best treks in Nepal post, we will break down the number of days for each of the treks in Nepal. These days are the actual trekking times, but the itineraries with Simrik Nepal treks include days in Kathmandu, Pokara and other hubs for the treks so when clicking on the links, you may see longer itineraries.
Kala Patthar
If you want to add a short trek to your Mount Everest Base camp trek, Kala Patthar is a quick two-hour trek to add on to your descent back to Lukla. It is a good option if you are feeling up for it as it gives a great view of Everest. From base camp you don't actually see Mount Everest, so Kala Patthar is a great addition. This is one of the best views of the peak of Mount Everest and the surrounding stunning mountain scenery. I really don't think I have ever witnessed more spectacular scenery than the Himalayas of Nepal.
Kala Patthar is a hill above the village of Gorak Shep that offers the best view of the highest mountain in the world and is a must-stop on anyone's Everest Base Camp trekking route. We didn't get the chance to climb this as I (Deb) started to suffer from congestion and I was a bit worried about altitude sickness. At this altitude you never want to push yourself beyond your means because illness can turn deadly quickly.
See more tips for the Everest Base Camp Trek
2. Three Passes Trek
If you want to make your Everest Base Camp Trek even more challenging, add the Three Passes Trek to your trip. The Three Passes Trek is the most challenging trek in the Everest Region that takes you through three high passes, Kongma La Pass, Cho La Pass and Renjo La Pass (all over 5000 meters) hence the name, Three Passes trek. Following the route of Everest Base Camp, it splits off part way through to take you around to the three passes and Gokyo Lakes before meeting up with the EBC route again at Lobuche.
This is a challenging trek that showcases the beauty of the Everest Region including the Gokyo Lakes and some fo the hightest mountain peaks. From Gokyo Ri, you'll see four of the six highest peaks in the world including Mount Everest, Lhotse, Makalu, and Cho Oyu. Trekking across the Chola Pass connects the Gokyo Region with the Everest Region and is one of the best treks in all of Nepal.
Trek Duration: 17 daysMax Elevation: 5,555mStart: LuklaTrekking Difficulty: ChallengingType: Teahouse TrekBest Time to Trek: Feb to May and Sep to Dec
3. Annapurna Base Camp Trek
Mount Machhapuchhre and Annapurna base camp, Nepal
The Annapurna Base camp Trek has been a longtime favorite of backpackers in Southeast Asia and it remains one of the most popular treks in the Annapurna region. This trek takes you to the adventure town of Pokhara which is filled with restaurants and guest houses lining the quiet lake. You can fly to Pokhara from Kathmandu but you can also take a bus. We took the five hour bus ride ourselves.
Annapurna Base Camp Trek begins in Dhampus which is one hour from Pokhara by truck. The Annapurna Base Camp trek is unique in the fact that this trek in Nepal starts in a lush jungle that changes before your eyes to a rocky landscape leading to nearly vertical peaks and snowcapped mountains of the Annapurna Range.
The Annapurna base camp trek takes you through on a journey through river crossings, moorlands, glaciers, and stunning vistas of the Annapurna Range. You'll trek through remote villages while coming across passing mule trains on high mountain passes. Check out prices and more details for trekking to Annapurna Base camp and throughout the Annapurna Sanctuary at Simrik Real Nepal. Find out more about the Annapurna Base Camp Trek at SimrikNepalTreks
Trekking Difficulty – ModerateTrek Duration – 14 daysMax Elevation 4210 MetersStart – TikhedhungaType – TeahouseBest Time to Trek – March-May & Sept-Dec
4. Annapurna Circuit Trek
Annapurna Region from the trail
The Annapurna Circuit Trek is another classic Himalayan trek in Nepal taking you through waterfalls and pine forests as you make your way up to the more rugged terrain of the Annapurna Massif. The Annapurna Circuit Trek circles the Annapurna Range containing 13 majestic mountain peaks reaching over 6000 meters including and Mt. Nilgiri, Tilicho peak, Annapurna south, and the highest mountain the Annapurna Region, Annapurna which stands at 8,091 meters high.
Annapurna Circuit is still one of the most popular treks in Nepal due to the fact that is offers a little bit of everything. On this multiday trip, you'll trek through rice terraces, forests and Nepalese mountain communities. One of the highlights of this Nepal trek is having the opportunity to interact with the local communities that inhabit the Annapurna region. This is a well-travelled route that has seen a lot of development, but the it still offers the same scenic beauty it always has. See more details here.
Trekking Difficulty: ModerateTrek Duration: 12- 21 DaysMax Elevation: – 5416 metresStart: BesisaharType – Teahouse TrekBest Time to Trek – March – May & Sept – Dec
5. Poon Hill Trek
Another popular trek in the Annapurna Sanctuary is the Poon Hill Trek. If you have a short amount of time, the Poon Hill Trek is a great trek to choose as it takes only a few days. It is often combined with the Annapurna Base Camp trek, but it is a trek in its own right. Poon Hill begins with a bus ride to Pokhara where you'll catch a jeep to Ghandruk. Poohhill has well maintained trekking lodges along the route with Wifi and even hot showers. The trek to the Poon Hill lookout may be short, but it offers amazing views of the Annapurna range as well as Dhaulagiri massif. (Dhaulagiri is the 7th highest mountain in the world standing tall at 8,167 metres (26,795 ft).
Dipendra offers 7 day itineraries for the Poon Hill Trek from Kathmandu. This includes a day in Pokorah, Tikedhunga, Ghorepani and a trek back to Pokarah via Nayapu. We spent a few days chilling in Pokhara and it's worth a trip even if you don't go do a high Annapurna Sanctury trek. It's a great short trek if you've done one of the other treks in Nepal and want a taste of the Annapurna Sanctuary.
Trekking Difficulty: ModerateTrek Duration: 3 daysMax Elevation: – 3210 metresStart: BesisaharType – Teahouse TrekBest Time to Trek – March – May & Sept – Dec
6. Manaslu Circuit Trek
Located along the border of Nepal and Tibet, this gem of a trek takes you off the beaten path to a land of beauty. Seeing fewer trekkers on the trail makes the Manaslu Trek one of the best treks in Nepal. Many people compare this trek to the Annapurna Circuit before it became crowded and overly developed.
The Manaslu Circuit trek has everything you could want out of trekking in Nepal with cultural immersion, high Himalayan peaks, and the classic teahouses we have all come to know so well in Nepal. Manasulu is the eighth highest peak in the world. Plus, you don't need to fly to the base of the Manaslu Trek, you can take the bus or hire a private vehicle from either Kathmandu or Pokhara. See more details at SimRik Real Nepal
Trekking Difficulty – DifficultTrek Duration – 16 days Max Elevation – 5220 MetersStart – Arughat BazarType – Teahouse Trek (but lodges are limited so camping equipment may be required)Best Time to Trek – May & Sept through to December
7. Upper mustang trek
Upper Mustang is known as the 'Last Forbidden Kingdom.' and is one of the best hikes in Nepal to experience the culture of ancient Buddhism. This area only opened to foreigners in October 1991 and the Upper Mustang trek only allows a limited number of trekkers.
The Upper Mustang Trek starts in the upper corner of the Annapurna Circut and takes you through undisturbed Tibetan Buddhist villages that have long been isolated from the outside world. While it is opening up, Upper Mustang is still one of the more remote trekking routes in Nepal and a special permit is required. However, that is changing quickly as trucking routes are being developed.
After flying into Pokorah you'll spend a day enjoying the valley before making your way to Jomsom where the Upper Mustang trek starts. The trail follows the ancient salt caravan route were you can expect to hike 6- 7 hours per day through trails that pass through desert-like and rocky conditions. En route you will see everything from barren highlands of the Himalayan desert to snow capped peaks. The turnaround point is Lo Manthang which is a Himalayan village in the only semi desert in Nepal known for its whitewashed mud-brick walls, the Royal Palace and a Bhuddist monasteries and fortifications. Contact our friend Deep at Simrik Real Nepal for more details.
Trekking Difficulty – Moderate to DifficultTrek Duration – 11 DaysMax Elevation – 4210 metersStart – JomsomType – trekking lodges (Tea houses)Best Time to Trek – March – December
8. Upper Dolpo Trek
The Upper Dolpo trek is one of the most rewarding treks in Nepal with its high passes, turquoise lakes including Shey Phoksundo lake, the deepest lake in Napal. Trek through this remote setting in Nepal's largest national park,She-Phoksundo National Park to view its deep valleys and high mountains of the Annapurna Range including and the 800-year-old Shey Monastery.
Located between the Tibetan plateau and the Dhaulagiri ranges, the Upper Dolpo Trek takes you through Shey-Phoksundo National Park. En route, you'll meet the nomadic people who dwell in Tibetan style villages while immersing in their culture. Following this ancient salt trading route, you'll stop at Buddhist monasteries, make way for yak caravans and maybe even spot the elusive snow leopard. The Dolpo Trekking trail will take you through forested areas and to the barren plateau close to the Tibet border where trekking tourism is in its infancy.
Upper Dolpo was the location for the movie Himalayas, which was nominated for an Oscar and was the inspiration for the book, the Himalayan Leopard by Peter Mattessian. See further details at Simrik Nepal
Trekking Difficulty: DifficultTrek Duration: 19 daysMax Elevation: 5190 MetersStart: LuklaType: Mountain lodges and campingBest Time to Trek: May to September
9. Mera Peak Climb
Located in the Everest Region of Nepal, Mera Peak is the highest mountain trekking peak climb in Nepal. Trekking peak climb means that it is a mountain summit climb that requires little technical climbing skills. Even though it doesn't require many technical skills, it is still a very strenuous trek reaching a height of 6476m and you do need some experience. For the Mera Peak trek, you'll need to know how to walk in crampons, and to use a snow ax. You'll also be attached to a safety line, so you need to know how to clip into a rop safely. So be prepared. But this trek involves camping, so sold weather camping on snow is expected. More details here
Trek Duration: 19 daysTrekking Difficulty: DifficultMax Elevation: 6,654 MetersStart: LuklaType: Teahouse and CampingBest Time to Trek: March – May & Sept – Dec
10. Island Peak Climb
Island Peak is located in the Mount Everest region and this challenging trek takes you through Khumbu, Gokyo, and Everest Base Camps. The Island Peak Climb is another opportunity to climb a peak in the Everest Region with limited alpine experience. This climb takes you across the Chola Pass and Kongma La Pass as you ascend from the Lhotse glacier to Gokyo RI and Kala Pattar. Get more details here
Trek Duration: 19 daysMax Elevation: 6,189 MetersStart: LuklaTrekking Difficulty: DifficultType: Teahouse TrekBest Time to Trek: March and May and also September to December.
11. Kanchenjunga Trek
This trekking destination takes you to the third highest mountain in the world. Kanchenjunga is dubbed "the gift of the earth", and this trek passes through subtropical forests, captivating villages, and mountaintop grasslands and has fantastic views of snowy peaks such as Pyramid Peak, Twin Peak, and of course, Kanchenjunga Peak. Located in the far eastern region of the country, it shares its border with Sikkim, India. See more details for booking here
Trek Duration: 27 DaysMax Elevation: 5150 MetersStart: SuketarDifficulty: ChallengingType: Camping and TeahouseBest Time to Trek: March – May & Sept – Dec
12. Makalu Base Camp Trek
The Makalu Base Camp Trek is one of the most challenging treks in Nepal taking you deep into the heart of the Himalayas. This trek is for experienced trekkers as it is a hike that has a sustained period of high altitude. Part challenging trek, part cultural trek, the Makalu Base Camp Trek takes you through rural villages of the Rai People and terraced farmland.
As you gain altitude, you'll come across Sherpa and Bhotia villages living life as they have for centuries. One of the treats of this trek is that few foreigners venture to this off the beaten path trek in Nepal to see its unique perspective with different views of some of the highest mountains including the Kangshung face of Everest. See details here.
Trek Duration: 23 daysMax Elevation: 5,220 mStart: TumlingtarTrekking Difficulty: DifficultType: Teahouse TrekBest Time to Trek: March – May & Sept – Dec
13. Gaurishanker Himal Trek
Deb following Dipendra of Simrik Nepal Treks through the Himalayas
While not one of the famous treks in Nepal, the Tso Rolpa Lake, The Gaurishanker Himal Trek is the perfect place to avoid the crowds. This trek passes through Na village and the village of Beding as well as the Monastery and Sherpa village. On the Gaurishankar Himal Trek trail, there are great views of two high peaks – Gaurishankar (7,145m), Melungtse (7,181m).
The Gaurishankar Himal Trek takes you up to Lake Tso Rolpa and Rolwaling glacier where you'll find yourself walking below the Rolwaling Icefall. The trek takes you to the Tashi Lapcha Pass and then the Gaurishankar Himal Trek trail where you will descend down to Theng Po and the Everest base camp trekking trail. En route you'll have gorgeous views of the Himalaya Mountain Ranges including Gaurishankar (7,145m), Melungtse (7,181m). You will then get a taste of the Everest Base camp trek by descending to Theng Po to join the trail on the Khumbu Valley. Details here
Trek Duration: 22 daysMax Elevation: 5755 MetersStart: Charikot (Driving)Trekking Difficulty: Very DifficultType: Teahouse TrekBest Time to Trek: March – May & Sept – Dec
About Trekking in Nepal
Stay on the mountainside to let yak trains pass on a Nepal Trek
Nepal is located in Southeast Asia between India and China. Eight of the fourteen 8,000-meter peaks are located in Nepal. When traveling to Nepal, you will be flying into Kathmandu International Airport and will spend a few days in the Capital city of Kathmandu.
This has been a base for Himalayan expeditions for decades and it's a great place to stock up on any supplies that you'll need for your trek into the mountains. Nepal is one of the best places in the world for trekking because of its strong infrastructure. Many of the treks take you high into the mountains and yet, there are lodges all along the routes. Guides and porters are affordable so you don't need to carry your packs as you venture into high altitudes.
We highly recommend hiring a guide for trekking in Nepal as it's much more fun to have first hand information, it's important to support the lcoal tourism and even if you think you are expeirenced, anything can happen at high altitudes and a guide is an important component for safety.
When hiking the trails in Nepal, we saw many a photo of missing trekkers who thought they could go it alone.
Tips for Trekking in Nepal
Altitude Sickness is avery real possibility when trekking in Nepal so make sure to keep an eye out for symptoms. Acute mountain sickness can happen over 3000 meters and all of our Nepal Treks listed go above and remain above 3000 meters. Take your time climbing and if you don't feel well, go down to a safer altitude. Drink plenty of water and try to keep eating.
When flying into a trekking destination, make sure to give yourself a couple of days on each end to fly home from Kathmandu. Delays and cancellations are regular in the Himalayas and if you have a flight book the day after your trek, you may miss it. Our flight was delayed by 12 hours and many people missed their flights completely back to Kathmandu from Lukla.
When hiking on the trail, make sure to give way to yak trains and mules. Stand on the mountain side to let them pass so that you are not pushed off the side of the mountain. These animals stop for nothing, so stay safely out of their way.
There are many places to fill up your water on the treks including filling stations and mountain streams. We suggest packing two refillable waterbottls and using a Steripen to sterilize your water.
Independent vs a Guided Organized Trek
Our guides watches on as Deb feels the effects of 5000+ meter altitude
The Everest, Annapurna and Langtang regions of Nepal allow people to trek independently and for the most part trails are well marked and easy to follow. But going with a guide is a great way to have all your hotels (teahouses) meals, porters and routes planned for you. We always hire an experienced guide to take us through the mountains. When you hire locally, you skip paying the middleman and expensive fees that they need to keep their Western companies and staff going. While by hiring directly in Nepal you will have experienced local guides who grew up in the mountains, have friends in the villages and can give you a unique perspective. Plus, you know your money is going directly to the local economy.
It is up to you to decide what to do, but we have hired local guides for all our mountain expeidtions and have always paid far less than the guided tours booked through the likes of the famous tour companies, while making lifelong friends and having a safe and affordable adventenure.
For more information on trekking in Nepal visit Simrik Real Nepal We used Dipendra for our trek through the Everest Region and have remained friends with him throughout the years. His Trekking Agency is open for business and waiting for you to visit.