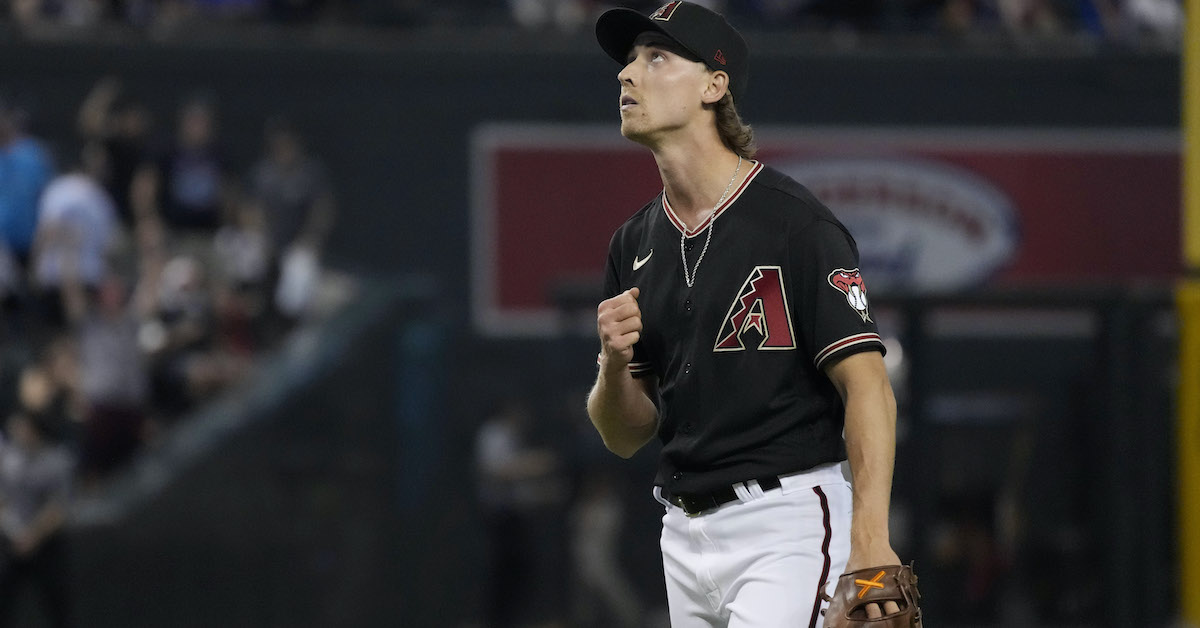 The Royals Take a Chance On Luke Weaver
Rick Scuteri-USA TODAY Sports
Raise your hand if you've thought about Luke Weaver in the past month. Anyone? No? Okay. As luck would have it, he did cross my mind recently. After Luis Castillo got shipped to Seattle, I joked on Twitter that the Merrill Kelly sweepstakes would commence, and a reply led me to compare Weaver to Kelly to Castillo:
Luke 'Merrill "Luis Castillo" Kelly' Weaver
— Justin Choi ?? (@justinochoi) July 30, 2022
Not exactly A-list material, I know. But the point is that Weaver shares similarities, albeit superficial, with the two other pitchers. Castillo and Kelly are both fastball-changeup guys; Weaver is also a fastball-changeup guy. So in sum, the Royals have acquired a bargain bin version of Kelly, who's a bargain bin version of Castillo, at the modest price of sending infielder Emmanuel Rivera to the Diamondbacks.
Despite promising stuff and command as a prospect, Weaver's career so far has been marred by inconsistency and poor health. He made his big league debut in 2016, spent most of '17 bouncing between Triple-A and the majors, became a permanent fixture of the rotation to open '18 before being demoted to the bullpen, and struggled with injuries in '19, making only a dozen starts. Nothing occurred health-wise in the shortened '20 season, but a right shoulder strain kept him off the mound for a majority of '21. He's been healthy this season, thankfully, with his low innings total explained by the fact that he is now a full-time reliever.
That doesn't sound all too exciting, but if you look closely enough, there's still a good amount of potential left in Weaver. He's quietly remodeled his changeup, and it looks better than ever. The table below shows how the pitch has progressed over the past three seasons:
Weaver's Changeup by Year
Year
Velo (mph)
V mov (in.)
H mov (in.)
Stuff Grade
2020
84.7
10.6
13.4
50
2021
85.4
10.6
12.6
45
2022
85.9
4.5
15.5
55
SOURCE: Alex Chamberlain's Pitch Leaderboard
Stuff grades courtesy of Cameron Grove's PitchingBot website.
The biggest difference: the changeup is getting way more drop than it used to, along with extra arm-side fade. (Here, a lower vertical movement number equals more drop.) Despite a small sample, we can tell this is a genuine development because of the physical properties of the changeup; it's spinning on a different axis than before and seems to be benefiting from more seam-shifted wake. That explains why stuff models like Cameron Grove's are appreciative of Weaver's efforts, viewing the new and improved changeup as a plus offering. He has always been able to command the slow ball; this is the first time he's backed that up with enhanced movement.
But while the changeup has undergone a makeover, his four-seam fastball has trended in the opposite direction, from good to average. Here's a table similar to the one above:
Weaver's Fastball by Year
Year
Velo (mph)
V Mov (in.)
H Mov (in.)
Tilt
2020
93.6
18.4
7.4
12:47
2021
94.0
17.6
7.4
12:46
2022
94.5
16.3
8.7
01:10
SOURCE: Alex Chamberlain's Pitch Leaderboard
This time, the lack of upward movement is working against Weaver. He's not getting nearly the same amount of fastball ride as he used to, which is instrumental in missing bats. Consider how the tilt of his fastball has shifted slightly over the years: Once at around 12:45, it's now passed the 01:00 mark. Since a 12:00 tilt represents perfect backspin, the more a pitch deviates from it, the less backspin there is. For a pitch that's used over 60% of the time, this isn't great news.
I wondered if Weaver had lowered his arm slot in order to throw the new changeup, but that isn't the case. If so, this is likely a case of him not getting on top of his fastball like he used to, and therefore a fixable issue. With the right guidance, there's a chance he can keep his remodeled changeup and resurrect his old fastball. Granted, the Royals aren't exactly renowned for their pitching development, but the upside of a re-tooled Weaver is enough to spark the imagination of any organization.
In return, Arizona receives Rivera, who's primarily played third base this season and has hit .237/.284/.399 (91 wRC+). The Royals might have been incentivized to let go of him due to their crowded infield. It's less clear why the Diamondbacks wanted in on this deal, but adding a solid backup infielder under team control is never a bad idea, and so they've obliged.
Rivera's ceiling is low — in this year's write-up of the Royals' farm, Eric Longenhagen remarked that he's poised "to play a smaller corner utility role" — but there's a decent floor, too. Based on his minor league track record and 200-or-so plate appearances this season, he seems like he can provide at least a usable bat to go along with a serviceable but hardly impressive glove.
Want another reason to trust the bat? In terms of Barrels per plate appearance, Rivera is one of the league's most improved hitters. (Warning: shameless cherry-picking ahead!) While writing about Cal Raleigh, I noted that among hitters with minimum 100 plate appearances in both 2021 and '22, Aaron Judge has seen the largest year-to-year increase in Barrels per PA. What if we lowered that plate appearance requirement to, I dunno, 98? In that case, it's time to crown a brand new king, and his name is Emmanuel Rivera, whose leap from 1.0% to 6.2% is a league-best. As you could might have guessed, I lowered the requirement because Rivera had exactly 98 plate appearances last season — just two shy of the minimum.
Did he progress from awful to merely average? Yes. And does this mean he'll hit for more power in the future? Probably not. But supported by all those barrels, that 91 wRC+ gains a whole lot of credence and seems representative of his true talent level.
Rivera's progression isn't guaranteed, and the same can be said of Weaver, who at this point is more reclamation project than actual back-end starter. He might not find his old fastball again, and heck, he might not even escape the bullpen ever again. But the Royals and Diamondbacks are presumably swapping players knowing the risk involved, and that's why this is one of the quieter deadline trades you'll come across. Neither team is contending, so there's no immediate need for, well, anything. A lack of urgency means the Royals can try to salvage Weaver, who is under team control until next year, and the Diamondbacks get a usable infielder just because. It's a little random, sure. But even the smallest of swaps can have meaning to them.