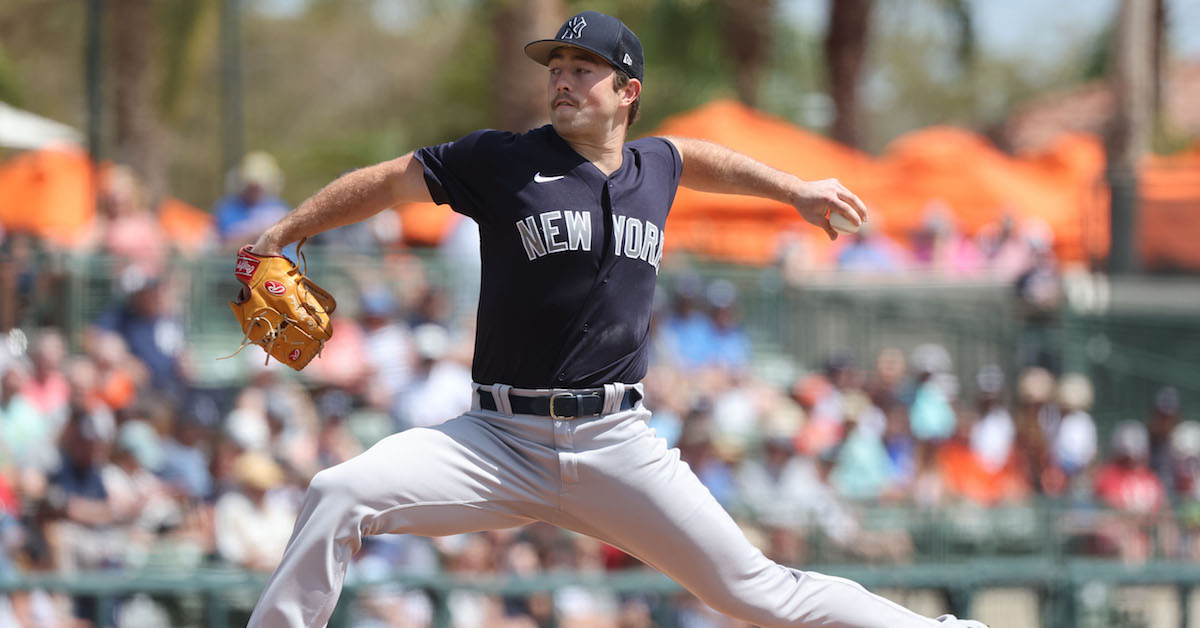 The A's Add More Major League-Ready Arms in Montas Swap
© Kim Klement-USA TODAY Sports
Oakland fetched a sizable return in the trade that sent the potent combination of Frankie Montas and Lou Trivino to the Yankees on Monday afternoon. The deal is headlined by two top 100 prospects, lefty Ken Waldichuk and righty Luis Medina, and is supplemented by near-ready backend starter JP Sears and fleet-footed A-ball second baseman Cooper Bowman. All three pitchers are essentially big league-ready, with Medina and Sears already on the 40-man roster, and Waldichuk a lock to be added after the season and likely to debut next year.
The youngest of that trio is Medina, a 23-year-old flamethrower who has been a prospect of import for over half a decade, walking the starter/reliever balance beam all the while. Now at Triple-A Scranton Wilkes-Barre, he has made 17 starts (he typically works four to five innings at a time and has maxed out at six twice this season) while posting a 3.38 ERA, his third consecutive level where he has posted a sub-4.00 ERA. While he's historically struggled with walks (he's been at least a five walks per nine guy his entire career) and overall consistency, Medina's stuff makes him tough to square up and induces lots of groundballs (50% GB%). His fastball has been in the mid-to-upper-90s his entire career and is parked in the 94-98 mph range again this season, peaking at 102.
Medina's low-80s curveball and upper-80s changeup each flash plus, but neither does so regularly, often due to release inconsistency. He will sometimes dial down his arm speed to make sure he lands his curveball where he wants, a change hitters can pick up and adjust to. His best curveballs are the knee-buckling, high-arcing sort best for teaching kids what the pitch looks like. Medina's changeup usage has increased this year (up to 21% this year from 13% in 2021), and he'll show you glimpses of either creating big action on the pitch or having feel for locating it down and to his arm side. Again, inconsistent arm speed is sometimes an issue here, but Medina's cambio could have late-arriving ceiling as a result of the increased usage.
The James Webb telescope has captured images of us wondering whether Medina will end up being a starter or a reliever — it's been happening for that long. There are glimpses of tactile feel to pitch here, but they are rare. I tend to funnel prospects like this toward the bullpen, as that's where I think they tend to wind up over time. But there's an irony in that assumption because, well, this is a piece in reaction to Oakland trading Frankie Montas, who inspired a starter/reliever debate of his own. The A's at least have the opportunity to continue to develop Medina as a starter because they are rebuilding and are less pressed to put him in a role where he might thrive immediately, the way Seattle did with Matt Brash. Instead, they can afford to give Medina a longer developmental runway and let him deal with growing pains at the big league level in the hope that his command will polish up and/or his changeup will blossom.
While anticipating a future bullpen role here, I do think it will be one of impact. Medina would likely sit toward the upper bound of his velocity range in relief, and his repertoire depth would allow him to navigate four to six outs at a time. That's still an impact member of a pitching staff, even if Medina isn't starting or closing. Were he still in New York, that outcome would be more likely. But rather than take that tack, when the bullpen clearly needed help following Michael King's recent injury, as well as Jonathan Loáisiga's velocity fluctuation and history of shoulder stuff, the Yankees decided to look outside the organization.
Waldichuk, an offseason Pick to Click who moved into the Top 100 late in the spring, is a big-league ready mid-rotation starter with three pitches that have bat-missing capability. His four-seamer sits 93-95 mph and has rise-and-run elements that make it a weapon at the letters, while his sweeping slider is obscured by his funky delivery, and he has consistent command of a screwball action changeup in the 80-84 mph range. A 2019 fifth rounder out of St. Mary's, Waldichuk dominated Double-A throughout the back half of his full-season debut and reached Triple-A early in 2022. His fastball and slider command aren't always crisp (though that changeup almost always finishes in the right spot), but the shape of Waldichuk's fastball and the deceptive nature of his delivery give him some margin for error on that end.
Here's Ken Waldichuk, fringe Top 100 prospect, in the Futures Game earlier this month.
Bowman is a plus athlete that can play anywhere, Sears a solid depth arm, Medina has absurd raw stuff he's still refining but will be a big leaguer of some sort pic.twitter.com/vBARepK1rp https://t.co/aEPWB9jIPg
— Kiley McDaniel (@kileymcd) August 1, 2022
Even though he throws his slider more frequently (stuff-grading metrics love the pitch — like, 70- or 80-grade love it), I have Waldichuk's changeup graded as his best future pitch due to its relative newness in his repertoire and how consistently he finishes it, and because his delivery is so loose that he almost looks elastic. The way his upper back appears to fold in half behind him like a section of the newspaper is unique to Waldichuk, and this might contribute to his deceptiveness.
Sears is another plug-and-play rotation piece. He has plus-plus fastball command and has walked just 23 hitters during his 118 innings at Triple-A and above since arriving there in the middle of 2021. Originally an 11th rounder by the Mariners out of The Citadel, Sears quickly established himself as a high-floor prospect and was traded to the Yankees less than a year after he was drafted as part of a deal for Nick Rumbelow between the 2017 and '18 seasons. He missed most of 2019 with injury and then lost 2020 to the pandemic; when the 2021 season finally rolled around, he was a 25-year-old who hadn't pitched above A-ball yet, more or less an afterthought. His 2021 look put him back on the prospect map and on the Yankees' 40-man.
Sears commands a flat-angle fastball that lives in the 92-95 mph range, consistently locating it in spots that hitters struggle to get on top of. His 79-83 mph slider can garner chases from lefties and also acts as a back-foot weapon against righties, giving him something other than his middling changeup to lean on against them. It's not an overpowering mix, but Sears' command will enable him to start.
Finally there's Bowman, the Yankees' 2021 fourth-round pick out of Louisville, whose swing has been changed since he entered pro ball. Bowman was an honorable mention prospect on the January Yankees list, projecting as a contact/speed second baseman. The footwork of his college swing was extremely conservative — he basically wasn't striding, just shifting his weight from his back side to the front. He now has a run-of-the-mill leg kick, but the power it has unlocked is significant compared to Bowman's previous iteration, and he appears very comfortable with the change.
His statistical performance has not been illustrious so far, though it certainly isn't bad. He was only hitting .217 at High-A Hudson Valley this year, coming off a .237 mark at A-ball in 2021. Attached to that is a 26% strikeout rate and a .286 BABIP, both surprising for a plus-running, large-conference college hitter who had bat-to-ball success as an amateur. It's more palatable with the swing change in mind, and Bowman does other stuff. He's reaching base at a 35% clip and has stolen 35 bases in 41 attempts; you hope he can be a 40-grade second baseman with speed that enables him to also play the outfield, though he hasn't yet. He's definitely a prospect, just one I consider to be more on the periphery of my scope. The others have been added to Oakland's prospect list, which you can find here. Waldichuk is my new No. 1 prospect in the org, but you could make a ceiling-based argument for Tyler Soderstrom or a positional scarcity argument for Shea Langeliers.
This trade continues a pattern of behavior Oakland has exhibited during their rebuild, acquiring near-ready pitching in droves in (in my opinion) the hope that it will put their rebuild in the express lane. Of the players acquired since the likes of Matt Olson, Matt Chapman, and Chris Bassitt started to move, the A's have acquired 11 pitching prospects. They now have 17 players who were originally signed by other organizations on their prospect list. They are creeping up into the middle of the farm system rankings, though they are likely to fall toward the bottom again within the next year or so because so many of the best prospects they've acquired in their rebuild trades are likely to graduate in short order.