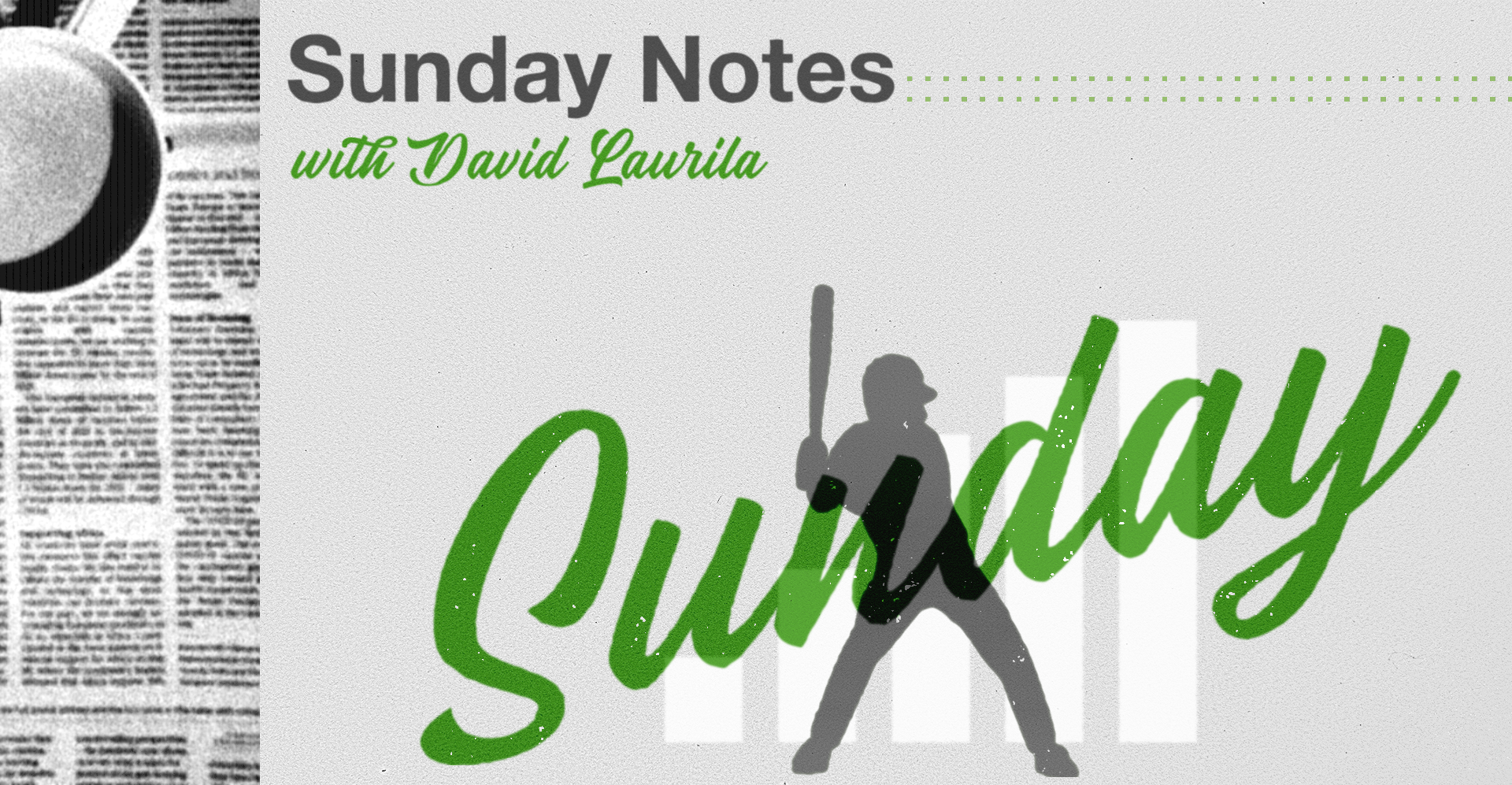 Sunday Notes: Royals Rookie Michael Massey Had a Benevolent Grandmother
Back in the 1950s, Hall of Fame slugger Ralph Kiner famously said that "singles hitters drive Fords and home run hitters drive Cadillacs." Michael Massey's grandmother may or may not have been familiar with the quote, but she did her best to send the 24-year-old Kansas City Royals rookie down the right road. I learned as much when I asked Massey about his first big-league blast, which came on August 18 against the Tampa Bay Rays at the Tropicana Dome.
"What I thought of when I hit it was my nana," said Massey, who grew up in the Chicago area and went on to play his college ball at the University of Illinois. "She passed away toward the end of last season — she was 93 — and growing up she'd always give me a hundred bucks for every home run I hit. She loved it when I hit home runs, and did that in every league I played in."
Massey has never tallied up his earnings from over the years, although he does acknowledge that the benevolence was bountiful. Along with his homers in youth leagues, high school, and college, he left the yard 21 times in High-A last year.
His grandmother — his mother's mother — escaped Illinois winters by vacationing in Florida, and eventually became a snowbird. That the Sunshine State became her "favorite place in the world" made Massey's first MLB home run even more special. And the memories include much more than money. The family matriarch regularly played Whiffle Ball with him when he was growing up, and she wasn't just a fan of her grandson. She loved baseball.
"She was mostly a White Sox fan, but she also liked watching the Cubs," explained Massey. "She was old school. We'd ask her if she wanted us to come over and install more channels on her TV — she only had 2, 5, and 7 — and she'd always say no. She'd just watch the Cubs on WGN. Back when they weren't very good, every time I'd see her she'd say, 'Oh, those Cubs. They stink.'
One thing that doesn't stink is having your baseball-loving grandmother give you a C-note every time you hit a home run. When you're a kid, $100 is a lot of money.
"It is a lot of money," agreed Massey. "That is probably why I sometimes become pull-happy."
———
RANDOM HITTER-PITCHER MATCHUPS
Hank Aaron went 9 for 25 against Jerry Reuss.
Sammy Sosa went 9 for 25 against Jim Abbott.
Alex Rodriguez went 9 for 25 against Rich Harden.
Joe Judge went 8 for 9 against Johnny Miljus.
Home Run Baker went 5 for 5 against Spec Harkness.
———
Stephen Vogt announced this week that he'll be retiring at the end of the season. He doesn't plan to leave the game entirely. The 37-year-old veteran of 10 big-league seasons recently told reporters that his end goal is to manage in the majors, and he suggested as much when I spoke to him earlier this summer. Our conversation was initially about his growth as a player.
"I've evolved over the years," said Vogt, who is in his second stint with the Oakland Athletics, the team he's spent more than half of his career with. "I've gotten smarter. You learn how to self-evaluate, to know what your strengths are and how to address your weaknesses. I had to get better defensively, and I have over the years. But hitting has always been my strength."
Asked if analytics have helped him improve his game, Vogt began his answer by saying "Absolutely." Being primarily a catcher, he's found himself increasingly relying on data, both behind the dish and in the batter's box. The willingness to adapt to an information-driven game will only help as he moves on to the next chapter in his baseball life.
"I definitely want to stay involved in the industry," Vogt told me. "I don't know how or what. but I'd love to coach or manage. I love this game. That said, I've been on the road a lot over the last 15 years, and my kids are getting older. I'm planning to explore every opportunity for how to stay in the game, and what would be best for my family."
———
A quiz:
In 1919, Babe Ruth set a then-single-season record by homering 29 times. Whose record did he break?
The answer can be found below.
———
NEWS NOTES
Jill Gearin made her MLB broadcast debut on Tuesday when she filled in for Chris Garagiola in Game 1 of a doubleheader between the Arizona Diamondback and the Los Angeles Dodgers. A guest on FanGraphs Audio last December, Gearin is the radio voice of the Visalia Rawhide, the Diamondbacks' Low-A affiliate.
For those of you in the Detroit area, the second annual Ike Blessitt Baseball Classic will take place on October 2 at Historic Hamtramck Stadium. Blessit played for the Detroit Tigers in 1972, while Hamtramck Stadium was the home of the Negro League's Detroit Stars and Detroit Wolves. More information can be found here.
Maury Wills, who led the National League in stolen bases each year from 1960-1965 while playing with the Los Angeles Dodgers, died earlier this week at age 89. A switch-hitting shortstop who swiped 586 bags in his 14-year career, Wills set a since-surpassed record with 102 thefts in his 1962 MVP season.
——-
The answer to the quiz is Ned Williamson, who hit 27 home runs with the National League's Chicago White Stockings in 1884.
———
A.J. Hinch was the featured guest on this week's episode of FanGraphs Audio, and one of the first things I asked the Detroit Tigers manager about was his bench coach. George Lombard is viewed by many as a future big-league manager, and according to Hinch, Lombard's five years on the Los Angeles Dodgers coaching staff is a meaningful part of his resume.
"When I got this job, George was a natural choice to come be the bench coach," said Hinch , whom the Tigers hired in October 2020. "He' a tireless worker, a fundamentalist in nature, a communicator, and he'd been with the Dodgers, which is always a great draw when you're looking for high-end talent, both on the field and in the front office. They are so good at exposing their employees to higher-end learning."
"When George got over here, the only thing he hadn't done in the game was be close to the decision-making," added Hinch. "The two years I've had him next to me, he's helped implement a style of play that I'm very proud of. He's helped implement a player-review process that I'm very proud of… His mind works well. The only thing he has to do is make decisions, and that's really not going to come until he gets a desk of his own and he's able to run a game a certain way."
Multiple teams will be looking for a new manager between now and the beginning of next season. Lombard will almost certainly be on the majority of the short lists.
———
FOREIGN AFFAIRS
With a week to go in the regular season, the Yakult Swallows are 76-57-3 and have a six-game lead over the Yokohama BayStars in NPB's Central League. The SoftBank Hawks (72-62-2) and ORIX Buffaloes (74-64-2) are tied atop the Pacific League. All four will advance to the postseason, as will the third-place teams.
While his 55 home runs have drawn the most attention, it's worth noting that NPB superstar Munetaka Murakami is on track to win a Triple Crown. The Yakult Swallows slugger leads NPB's Central League by wide margins in both home runs and RBIs, while his .328 batting average is five percentage points higher than Ryoma Nishikawa's .323. Per Tokyo-based scribe Jim Allen, Japanese baseball history includes 11 Triple Crowns, by seven different players. Wladimir Balentien is the only player with more home runs in a single season; he went deep 60 times in 2013.
Sticking with Japanese baseball history, Isao Harimoto is the only player to reach 3,000 career hits at Japan's highest level. An outfielder who played from 1959-1981, primarily with the Toei Flyers, Isao had 3,085 hits, including 504 home runs and a .319/.399/.534 slash line.
Woo-jin An leads all KBO pitchers with 204 strikeouts. The 23-year-old Kiwoom Heroes right-hander has a 2.24 ERA to go with 118 hits allowed in 177 innings.
Great Britain advanced to the World Baseball Classic for the first time when they beat Spain 10-9 on Tuesday. Notable on the Great Britain roster is highly-regarded Seattle Mariners catching prospect Harry Ford, whose parents were both born in the UK.
———
The Cleveland Guardians are on the verge of winning the American League Central, an accomplishment that few expected coming into the season. That makes Terry Francona a candidate to win his third AL Manager of the Year award, the first of which came when he was at the helm in Boston. I asked Red Sox broadcaster Dave O'Brien for his thoughts on the veteran skipper.
"I don't know if there's a funnier guy in baseball," O'Brien said of Francona. "He reminds me a lot of Jim Leyland — I think those two have been close — because they bring that wonderful sense of humor to the game. When we were in Cleveland, and the Red Sox swept the Guardians, we were waiting at the bus — it was just a few broadcasters standing there — and here comes Tito on his scooter, wearing a t-shirt, flip-flops, and shorts. He pulls up and just drops a, 'Man did that suck.' Then he tools off into the sunset. That's Tito.
"I think one thing that's happened with him is he's not taking everything as life-and-death as he did here in Boston," continued O'Brien. "Leaving Boston probably saved his life. I think he feels that way. With all the medical problems he's had, he might not be alive right now had he not gotten out of this cauldron here in Boston."
In the venerable broadcaster's opinion, Francona will one day be honored in Cooperstown. "There's no question that Terry Francona is a Hall of Famer," opined O'Brien. "I think everybody believes that."
———
FARM NOTES
A total of 17 players stole 50 or more bases in the minors this year. San Diego Padres prospect Esteury Ruiz had the most, swiping 80 bags in 93 attempts. Kansas City Royals prospect Tyler Tolbert was a perfect 60-for-60.
Jack Leftwich had a 2.72 ERA, a 2.49 FIP, and 140 strikeouts in 109-and-a-third innings, between Low-A Lynchburg and High-A Lake County. The 23-year-old right-hander was drafted in the seventh round last year out of the University of Florida by the Cleveland Guardians.
Edgar Barclay pitched 67-and-a-third innings this year without allowing a home run. The 24-year-old left-hander in the New York Yankees system had 86 strikeouts and a 1.74 ERA with High-A Hudson Valley.
Courtney Hawkins tied Ozzie Canseco's Atlantic League record for home runs in a season when he went deep for the 48th time last Sunday in his final at bat of the season. A first-round draft pick by the Chicago White Sox in 2012, the 28-year-old old outfielder was playing for the independent Lexington Legends.
McKenzie Mills went 9-1 with a 2.99 ERA over 72-and-a-third innings with the Atlantic League's Southern Maryland Stone Crabs. An 18th-round pick in 2014 by the Washington Nationals, the 26-year-old right-hander last played affiliated ball in 2019 with the Double-A Jacksonville Jumbo Shrimp.
———
Trey Sweeney is climbing the ladder in his first full professional season. Drafted 20th overall last year out of Eastern Illinois University by the New York Yankees, the 22-year-old left-handed-hitting shortstop was promoted to Double-A Somerset on September 6. Counting his 100 games with High-A Hudson Valley, he finished with a 111 wRC+ and 16 home runs.
Sweeney sees himself as being well-rounded with the bat.
"Personally, I just try to do my job," Sweeney said when asked for a self-scouting report. "I wouldn't consider myself a power hitter, or what you'd call a pure hitter. I just try to do all aspects of the game at the plate, whether that's hitting singles, home runs, driving in runners in, or finding ways to get on base. I try to take my walks and limit strikeouts, finding barrels when I can."
The Louisville native — No. 11 in our Yankees prospect rankings — added that his hitting style is much the same as it was in college, although there have been a few mechanical adjustments. In an effort to improve his timing, he's "lightened up the leg kick and the barrel tip, basically shortening stuff up." Sweeney began making those changes in Low-A, only a handful of games into his professional career. Instituted on his own, he subsequently did some fine-tuning with the help of organizational hitting instructors last fall.
Increasing his range has been a priority. Sweeney said that "getting to more balls in the six-hole and up the middle" his been his main focus this year, with a lot of emphasis on his first step. An offseason goal for the 6-foot-4, 205-pound infielder is to gain "some good weight" while also continuing to improve his quickness and agility.
———
LINKS YOU'LL LIKE
Sports Illustrated's Emma Baccellieri talked to some of the players whose efforts helped to unionize the minors.
Brew Crew Ball's Jack Stern wrote about why Corbin Burnes needs to diversify his approach against left-handed hitters.
Sam Peebles examined Matt Olson's second slide at Talking Chop.
The Athletic's Katie Woo explained how the St. Louis Cardinals' broadcasters have been preparing for Albert Pujols's milestone moments (subscription required).
At ESPN, Jesse Rogers wrote about how the Cleveland Guardians turned the AL Central race into a one-team sprint.
———
RANDOM FACTS AND STATS
On today's date in 1967, the Boston Red Sox and Minnesota Twins were both 90–68, the Chicago White Sox were 89-68, and the Detroit Tigers were 88-69. There was less than a week left in the season and only one of the teams could advance to the postseason.
The Cincinnati Reds set a a major league record by hitting their 99th batter of the season earlier this week. Chicago Cubs pitchers hit 98 batters last year.
Toronto Blue Jays pitchers have been charged with 24 wild pitches, the fewest in the majors. Toronto Blue Jays catchers have been charged with two passed balls, tied for the fewest in the majors.
Roger Maris slashed .380/.429/1.014 with 13 home runs in 18 games against the Chicago White Sox in his 61-homer, MVP 1961 season. He slashed .208/.302/.377 with three home runs in 17 games against the Baltimore Orioles.
In 1960, Maris was named AL MVP in the first of what became five consecutive seasons in which he played in the World Series with the New York Yankees. He later played in the 1967 and 1968 World Series with the St. Louis Cardinals.
Babe Ruth pitched in 10 big-league season and had a winning record all of them. His career record was 94-46.
Hall of Fame right-hander Pud Galvin had 10 seasons with 20 or more losses, including one with 35 losses. His career record was 365-310.
On today's date in 1962, knuckleballer Bob Purkey ran his record to 23-5 with a complete game effort as the Cincinnati Reds edged the Pittsburgh Pirates 2-1. A native of Pittsburgh, Purkey made three All-Star teams with the Reds after being acquired from his hometown team in a 1957 trade.
On today's date in 2001, Richie Sexson and Jeremy Burnitz both homered three times to lead the Milwaukee Brewers to a 9-4 win over the Arizona Diamondbacks. The duo went back-to-back twice.
Players born on today's date include Geno Petralli, who caught for the Toronto Blue Jays from 1982-1984 and for the Texas Rangers from 1985-1993. A career .267 hitter with a .703 OPS, Petralli slashed .414/.463/.667 in 95 plate appearances at Fenway Park. He went a combined 32 for 80 against Mike Boddicker and Roger Clemens.
Also born on today's date was Dave Robertson, an outfielder who played for three teams, most prominently the New York Giants, from 1912-1922. Robinson led the National League in home runs in both 1916 and 1917, going deep 12 times each season. He had 11 hits in the 1917 World Series, the most of any player.