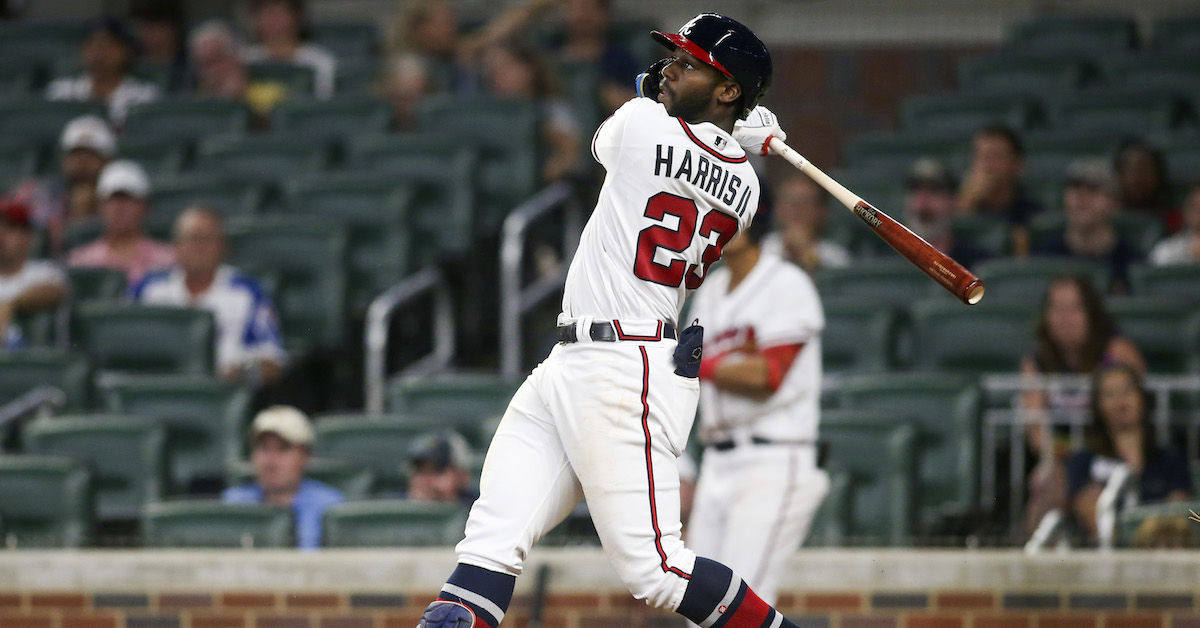 Rookie Standout Michael Harris II Signs $72 Million Extension
© Brett Davis-USA TODAY Sports
Just a few weeks after extending third baseman Austin Riley, Alex Anthopoulos and the Atlanta Braves are at it again. This time, the recipient of a long-term deal is one of the team's two rookie standouts, Michael Harris II. The freshly inked contract runs for a minimum of eight years, with $15 million and $20 million club options in 2031 and '32 that each carry a buyout of $5 million. All told, Harris stands to pocket at least $72 million; the deal will be worth $102 million if the Braves exercise both options.
That Harris would be signing an extension that takes him into the 2030s in August of 2022 while nearly doubling up the next-best National League rookie hitter by WAR would have been a surprising revelation to someone living in the pre-lockout days. After all, Harris had not yet played above High-A, and while he was excellent in the Sally League, he wasn't dominating the way Julio Rodríguez was at a similar level of play. But like Rodríguez, it only took six weeks of Double-A ball before Harris was ready to star in the majors.
When Harris was called up in late May, the Braves were still scuffling below .500, 7 1/2 games behind the Mets in the NL East. Atlanta's outfield beyond Ronald Acuña Jr. was sorely tested, as Eddie Rosario was out with eye surgery, Marcell Ozuna had an OPS hovering around .650, and it felt as if the Baha Men had a hit more recently than Travis Demeritte. Some teams would have taken the path of least resistance and called up journeyman fifth outfielder Delino DeShields or eternal prospect Drew Waters. Instead, the Braves went with the bolder move, calling up Harris. Unlike the other options, Harris was at least playing excellent baseball, hitting .305/.372/.506 in 43 games for Double-A Mississippi.
The Braves have not been disappointed with their gamble. Immediately placed in the starting lineup in center field, Harris quickly locked up the job, starting almost every single game; he now stands at a .288/.327/.498 line with 12 homers and a 127 wRC+ over 72 games. Add in defense played at a level such that I'll call shenanigans if he's not at least a Gold Glove finalist, and his campaign so far tallies up to 2.7 WAR in less than a half-season of play.
Suffice it to say, Harris' projections have changed considerably since the start of the 2022 season. ZiPS only had Harris projected for a .242/.294/.380 line entering the season, mainly because of his short résumé and lack of experience in the upper minors, but it liked his long-term upside enough to rank him 89th on the preseason ZiPS Top 100 Prospects list. If I tell preseason ZiPS that Harris is going to get 272 plate appearances in 2022, his offensive projection is only is as good as his actual results 6% of the time.
With full knowledge of his 2022 season, including his minor league performance, the full version of ZiPS is more optimistic about Harris than the simpler in-season model:
2022 ZiPS Projection – Michael Harris II
Year
BA
OBP
SLG
AB
R
H
2B
3B
HR
RBI
BB
SO
SB
OPS+
DR
WAR
2023
.276
.321
.423
565
97
156
30
4
15
80
34
137
13
93
7
2.6
2024
.284
.332
.455
545
98
155
32
5
17
84
36
129
13
103
7
3.4
2025
.282
.334
.457
547
100
154
32
5
18
86
40
135
13
104
7
3.5
2026
.282
.337
.461
547
101
154
33
4
19
88
42
138
12
106
6
3.5
2027
.279
.338
.459
542
102
151
33
4
19
87
45
139
11
106
6
3.5
2028
.276
.336
.462
539
101
149
32
4
20
88
45
139
11
106
6
3.4
2029
.276
.334
.460
526
98
145
32
4
19
86
44
136
10
105
5
3.2
2030
.275
.334
.455
510
95
140
30
4
18
82
43
127
9
104
5
3.1
2031
.276
.333
.456
493
91
136
29
3
18
79
40
116
8
104
5
2.9
2032
.273
.329
.443
472
85
129
26
3
16
73
37
107
7
100
4
2.5
ZiPS doesn't expect Harris to maintain quite this level of performance, and it isn't enamored enough with his approach at the plate to give him a huge peak. But that's still the projection of an excellent player, one who will appear in some All-Star Games and who you want to keep on your roster rather than allow to join someone else's. How much would the Braves have paid Harris if he went year-to-year? That answer is a little tricky. Under the old CBA's service time rules, ZiPS estimates the Braves would have had to shell out approximately $41 million over Harris' six cost-controlled seasons and then $57.5 million for two years of free agency, totaling $98 million over eight years. But Harris' rookie campaign changes those calculations, as under the new CBA, a player who finishes in the top two in Rookie of the Year voting gets a full year of service time. My award estimator gives Harris an 85% chance of finishing in the top two in the NL Rookie of the Year race; hitting free agency a year earlier boosts the system's estimate to $123.5 million. Sum it up, and you get a valuation of about $120 million over eight years.
Harris didn't get $120 million, of course, and he's trading a lot of possible money in return for guaranteed money. It's tempting to compare this to the Ozzie Albies contract, a seven-year, $35 million extension with two very friendly team options, but Albies had a year more service time, a higher established level of play, and took a lot less money. Even falling short of ZiPS, the Albies underpay has been grotesque; from 2019 to today, the Braves have paid Albies less money than Bruce Sutter over the same period. This is a team-friendly deal, but it's not in the same ball park as the Albies contract, and given the uncertainty in Harris' baseline and the amount of time until he hits arbitration, I think it can be logically defended.
For the Braves, the benefits are obvious. Except for Dansby Swanson, Atlanta has their most valuable offensive players under contract for a long time, and mostly at prices that are considerably less than they'd have to pay in free agency for the same production. With two-thirds of the lineup now locked up, the Braves can start to focus on extending Max Fried and pursuing other starting pitchers this winter. With the Mets likely to continue being aggressive this offseason and into the future, the Braves will need all the talent they can get.