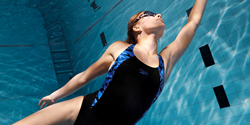 Pentland Brands 'Finds Right Solution' in Centric PLM™ for Teams Worldwide
Ultimately, Centric PLM will help Speedo teams create world-class products more sustainably while meeting their consumer needs.

CAMPBELL, Calif. (PRWEB)
February 10, 2022
Pentland Brands, one of the largest privately-owned British-based Fashion companies and the name behind some of the world's best sports, outdoor and lifestyle brands, has selected Centric Software's Product Lifecycle Management (PLM) solution.
Centric Software provides the most innovative enterprise solutions to plan, design, develop, source and sell products such as apparel, footwear, sporting goods, furniture, home décor, cosmetics, food & beverage and luxury to achieve strategic and operational digital transformation goals.
Founded in 1932 in Liverpool, Pentland Brands started as a small company selling shoes with an initial investment of only £100. The company operates over 2,420 stores around the world with annual sales of £5.1 billion across 190 countries. They own and invest in retail and wholesale businesses in the sports, outdoor and fashion sectors.
In April 2020, Pentland group acquired Speedo North America, from PVH, another Centric customer, who were currently using Centric PLM and they decided to merge with Speedo International, who were using another PLM solution.
Sam Keers, Global Sourcing and Supply Planning Director explains, "We looked at other PLM solutions and Centric PLM stood out as the market leader. We decided it would be the right solution for Speedo immediately, then all our other brands in time."
Centric PLM will allow Pentland Brands to better manage Speedo's complex operations involving varied product categories, including hard and soft goods, and achieve alignment and collaboration across all Speedo teams in Asia, Europe and America.
"By having all our regional teams on the same platform, we will be able to work and collaborate across time zones supporting Global ranges and improving visibility and management of Regional ranges and SKU's. Each team involved in the Concept to Launch process will be trained and start to use the system, including our Vendors," explains out Gill Ward, Change Manager of Speedo International and Asia.
With Centric PLM in place, Pentland Brands expects to increase product data visibility and accuracy while ensuring quality and compliance are met. Centric PLM will also allow them to analyze the materials and resources Speedo uses to identify any overlap and make faster decisions throughout product development.
"Ultimately, Centric PLM will help Speedo teams create world-class products more sustainably while meeting their consumer needs," adds Keers.
Jill Mazur, Transitional Design Director of Speedo USA adds, "We started collaborating with Centric for the global implementation during the ongoing pandemic. They are exceptionally supportive and flexible, working with our project teams on three continents and multiple time zones. With all of the limitations of our internal business teams working remotely, Centric is making our project as seamless as possible."
"We are happy to announce that Speedo is now partnering with us," says Chris Groves, President and CEO of Centric Software. "And we are excited to work with Pentland Brands on their multi-continent, multi-category digital transformation and their ambitious growth strategy."
Learn more about Centric PLM
Request a Demo
Pentland Brands (https://pentlandbrands.com)

As one of the largest, British privately-owned companies, Pentland Brands manages several industry-leading sports, outdoor, and lifestyle labels around the world. Their mission is to make brands that matter—and continue to do so as they expand into new ventures in untapped markets.
While the brand flew on the radar for many years, their reputation and name became well-known after it acquired the shoe brand Reebok, in the 1980s. By investing in the formerly struggling U.S. brand, it successfully developed Reebok into the major athletic shoe brand it is today. Further acquisitions over the years allowed Pentland to expand and continuously into the prestigious, internationally recognized sports and lifestyle brand it is now.
Operating in over 190 countries, they own iconic brands such as Speedo, Berghaus, ellesse, SeaVees, and Mitre. They also license Kickers in the UK and have a joint venture partnership for Lacoste footwear. For more information, visit their website at https://pentlandbrands.com.
Share article on social media or email: