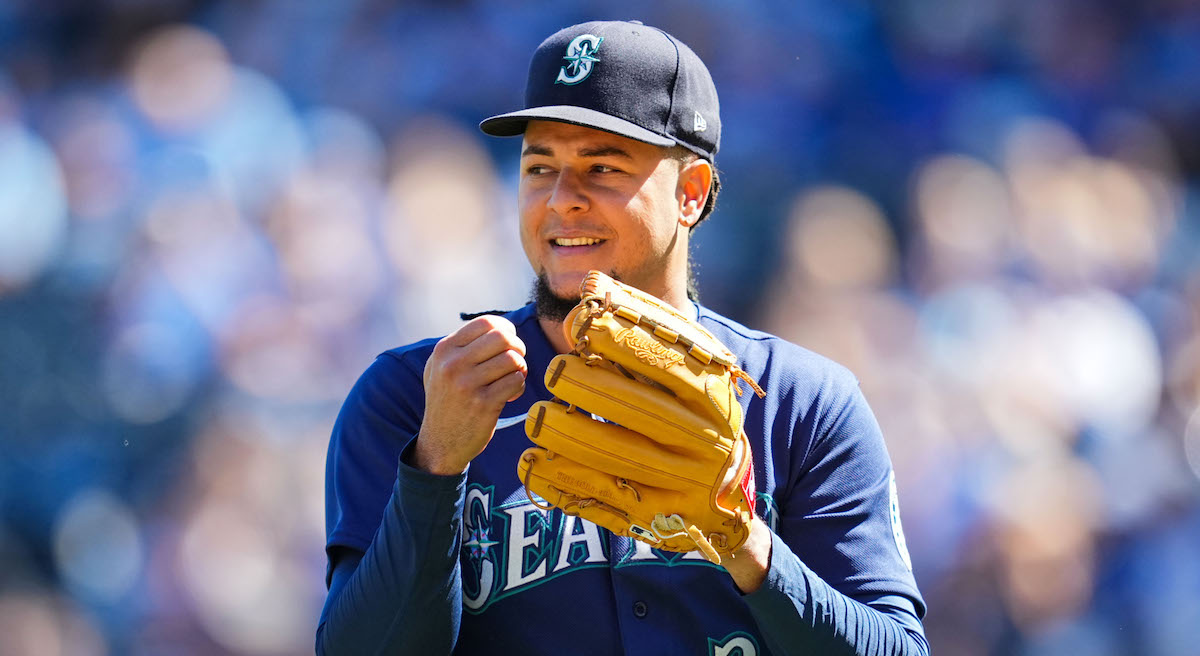 Luis Castillo Is Going To Be a Mariner for Awhile
© Jay Biggerstaff-USA TODAY Sports
Nobody can accuse the Mariners of skimping on frontline pitching in an effort to end their epic playoff drought. After signing Robbie Ray to a five-year, $115 million deal last winter, they traded a quartet of prospects for Luis Castillo on July 30. Already this was no mere rental, as the 29-year-old righty still has another season under control before free agency. Or rather had another season under control, because on Saturday, the Mariners announced they had agreed to terms with Castillo on a five-year, $108 million extension.
With the ink on the new deal barely dry, Castillo threw five solid innings against the Royals on Sunday, but faltered in the sixth and was charged with the first three runs of what turned out to be a gruesome 11-run rally that three other relievers tried in vain to contain. The Mariners, who led 11-2 before the onslaught, lost 13-12, dropping them to 3-7 on a 10-game road trip from hell, during which they lost series to the Angels, A's, and Royals, and sent both Eugenio Suárez and Julio Rodríguez — their two most valuable players by WAR — to the injured list, the former with a fractured right middle finger, the latter with a lower back strain. Sunday's loss dropped the Mariners to 83-69 overall, but fortunately for them, both the Rays (84-69) and Orioles (79-73) lost on Sunday as well, leaving Seattle four games ahead of Baltimore for the final American League Wild Card slot, and half a game behind Tampa Bay for the second slot.
The outing was the third rough one out of the last four for Castillo, who gave up six runs (three earned) to the White Sox on September 7, and four runs in 4.2 innings to the A's on September 20. Even so, he's pitched to a 3.34 ERA and 3.12 FIP in 59.1 innings over 10 starts since the trade, and a 3.06 ERA and 3.17 FIP in 144.1 innings overall. He didn't make his season debut until May 9 due to a bout of shoulder soreness that sidelined him in the abbreviated spring, but among all pitchers with at least 140 innings, his 76 ERA- is 21st in the majors and his 78 FIP- is 12th; regardless of innings, his 3.4 WAR is in a virtual tie for 23rd among all starters.
As for the extension, which runs from 2023-27, it covers what would have been Castillo's final year of arbitration eligibility as well as the first four years of free agency. Castillo, who is making $7.35 million this season, will receive a $7 million signing bonus, a $10 million salary for next year, and annual salaries of $22.75 million over the ensuing four seasons. His $21.6 million average annual value will make him the game's 15th-highest paid pitcher, at least until free agency reshuffles this list a bit this winter:
Starting Pitcher Average Annual Values
SOURCE: Cot's Contracts
Current contracts and teams only. * = reduced via suspension.
Castillo's new deal contains a few additional bells and whistles. He'll have a full no-trade clause for 2023-25, and then a $1 million assignment bonus thereafter. That's no small matter for a pitcher who has been traded five times in his career; the Giants, Marlins (twice), and Padres each flipped him before he reached the majors with the Reds in 2017. Some of those teams — particularly the Giants, who signed Castillo out of the Dominican Republic in 2011 and received -0.8 WAR worth of Casey McGehee in '15 in exchange once they dealt him — would probably like a do-over.
Additionally, Castillo has both a conditional option and a vesting option for 2028. The conditional option portion is this: If he's on the injured list anytime in the 2025-27 period for more than 130 consecutive days due to Tommy John surgery or any other damage to his ulnar collateral ligament, the team will have a $5 million option on his services for '28. As for the vesting option, if Castillo pitches at least 180 innings in 2027 and an independent surgeon determines that he doesn't have an injury that would cause him to start the '28 season on the IL, he'll receive a guaranteed $25 million salary.
Via Dan Szymborski, here's his ZiPS projection over the five guaranteed years of the deal:
ZiPS Projection – Luis Castillo
Year
W
L
ERA
G
GS
IP
H
ER
HR
BB
SO
ERA+
WAR
2023
13
7
3.01
28
28
170.3
135
57
12
51
168
120
3.4
2024
12
7
3.09
27
27
166.0
136
57
12
49
159
117
3.2
2025
11
8
3.23
26
26
158.7
134
57
13
47
149
112
2.8
2026
10
8
3.33
26
26
151.3
132
56
13
45
138
108
2.4
2027
10
8
3.56
26
26
146.7
134
58
14
45
130
102
2.0
That's a total of 13.8 WAR over the five seasons, which ZiPS projects as being worth $113.9 million if he were a free agent, and $105.2 million given the arbitration-year discount, so the actual price tag is right in that ballpark. What's more, when you account for the discount, Castillo's contract is very comparable to what Ray received from the Mariners for a five-year projection of 14.7 WAR, and what Kevin Gausman received from the Blue Jays (five years, $110 million) for a five-year projection of 16.0 WAR.
What's interesting about those deals is that both Ray and Gausman had been in the weeds not too long before hitting free agency. Gausman didn't pitch well with the Braves in 2019 and was lost to the Reds via waivers in August of that season, finishing the campaign with a 5.72 ERA and 3.98 FIP, while Ray was rocked for a 6.62 ERA and 6.50 FIP with the Diamondbacks and Blue Jays in 2020 before pulling himself together and winning the AL Cy Young award last year. Castillo has been Mr. Consistency by comparison. Looking at each of these pitchers' three- and four-year periods before their big contracts (including the shortened 2020 season), he was the more valuable pitcher over both intervals:
Castillo, Gausman, and Ray Before Payday
Pitcher
3-yr IP
3-yr ERA
3-yr FIP
3-yr WAR
4-yr IP
4-yr ERA
4-yr FIP
4-yr WAR
Ray
354.0
3.79
3.30
8.0
537.2
3.83
3.65
10.3
Gausman
419.1
3.93
4.29
5.8
543.0
3.93
4.29
6.6
Castillo
396.2
3.45
3.32
9.7
587.1
3.43
3.44
13.9
For Ray and Gausman, 3-year period prior to free agency was 2019-21, and 4-year period 2018-21. For Castillo, 3-year period was 2020-22, and 4-year period 2019-22
That said, one has to balance the past with the more favorable projections for the other two pitchers, both of which included larger workloads because they had better health in their walk years, with Gausman throwing 192 innings and projecting for another 810.2 over the next five seasons, and Ray throwing 193.1 innings and projecting for 794.1 over five seasons. Castillo, by comparison, will come in somewhere in the 150-160 range this year and projects for 671 over his next five seasons. Throw in the fact that, as Dan relayed to me, ZiPS believe Castillo's ability to keep home run rates low has less value in Seattle (for which the most recent park home run factor is 98) than Cincinnati (112), and you can understand why his projection comes in a bit below the other two.
The reality is that Castillo might have topped Gausman's and Ray's contracts had teams competed for his services, though probably not by much, and he did get a vesting option out of the deal, something neither of the other two pitchers have (Ray does have an opt-out and a similar no-trade/assignment arrangement). While that $25 million vesting option isn't Max Scherzer money, it's not chump change.
The risk of a more significant injury than this spring's shoulder soreness might have made the security more attractive to Castillo, but more than anything, it sounds as though Seattle is where he wants to be. Via MLB.com's Daniel Kramer, he said before Saturday's game, "It's the camaraderie that's in here… I came here with the guys I knew from the Reds. I came here with an open mind and when I got here everybody was a tight group."
Castillo was referring to Cincinnati teammates Suárez and Jesse Winker, who were part of the Reds' 2020 and '21 teams, both of which finished above .500; despite that, the Reds tore apart their competitive core, and dealt the pair to the Mariners in mid-March. Coming to a team willing to spend handsomely on him, and having recently done so not only with Ray but also with Rodríguez (10 years, $209.3 million) and shortstop J.P. Crawford (five years, $51 million) certainly seems like a more palatable situation.
With Castillo, Ray, Logan Gilbert, and George Kirby, the Mariners have a pretty good rotation lined up for October. While nothing should be taken for granted as far as them getting there — particularly as they haven't been to the postseason since 2001 — our Playoff Odds give them a 99.9% chance of making it, not only because they have a four-game lead over Baltimore with 10 to play (as well as the tiebreaker due to a 4-2 season series win) but also the AL's second-easiest schedule the rest of the way (.430), facing the Rangers, A's, and Tigers (oh my!) at home. They're not without cause for concern given the aforementioned injuries, but both Rodríguez and Suárez should return in time for the Mariners to play October baseball, and when they do, in all likelihood it will be their new righty fixture who takes the ball for Game 1.