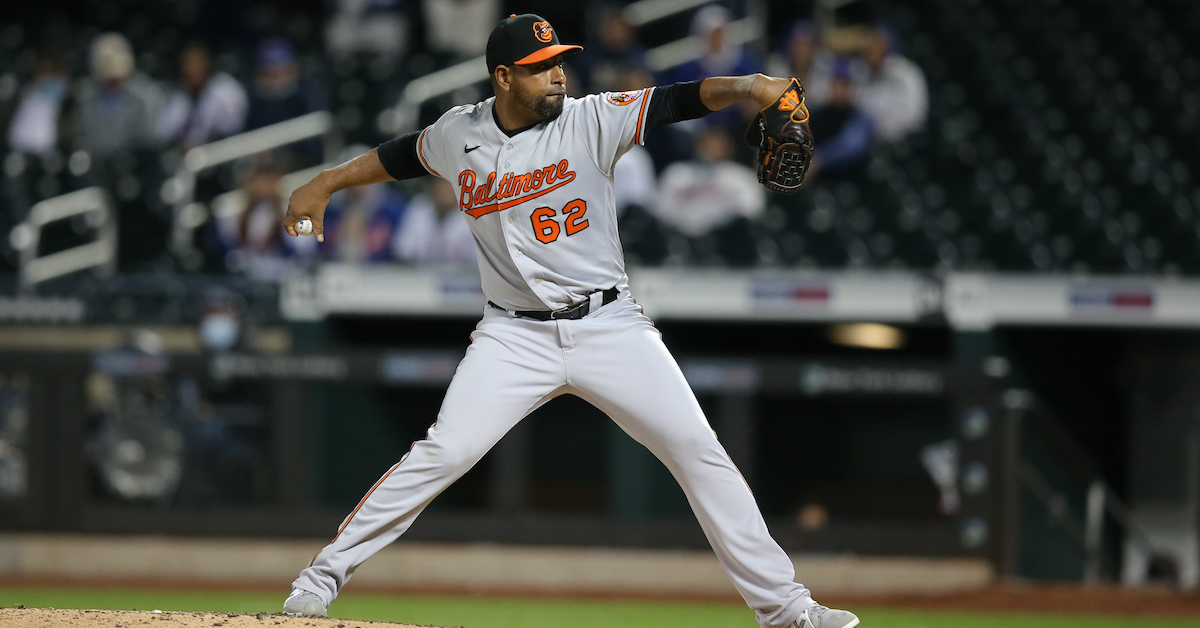 In Which César Valdez Throws a Lot of Changeups
Remember that one time Lance McCullers Jr. threw 24 curveballs in a row? It was great, and it's part of Astros (and Lance McCullers Jr.) lore. You're supposed to intersperse breaking balls with fastballs, to make each play off of the other. Going against that – throwing the same thing over and over again and daring the other team to hit it – is delightful.
What's so delightful about it? Throwing the same pitch a ton of times isn't really it. Would you care if peak Mariano Rivera threw 24 cutters in a row, or Jake McGee threw 24 fastballs in a row? Probably not. Fastballs – and for this article, I'm treating a cutter as a fastball – are the default pitch, and if batters aren't hitting them, why throw something else?
I'd argue that when you're feeling it, curves and sliders can behave similarly, at least when it comes to the feasibility of throwing them over and over again. McCullers didn't bounce 24 curves in a row – he commanded plenty of them in the strike zone. His curve isn't just hard to hit because batters are looking for a sinker. It's hard to hit because it moves like a hummingbird hunting nectar. It's definitely cool seeing all those curveballs in a row, but it's not as though he was relying on the deception of curveball versus fastball to sneak it past batters. They knew what was coming; they just couldn't do anything with it.
That's fine, I guess, if you're into excellent, borderline-unhittable pitches. For truly impressive streaks of identical pitches, though, I'm partial to changeups. The reason for the pitch is right in the name – it's a change from what the batter is expecting. In Spanish, it's even more straightforward: cambio. There's something magical about seeing a batter gear up for a fastball, only to flail awkwardly at something 10 mph slower.
Do it twice, and you're using the hitter's expectations against them in a different way, betting that with the changeup out of the way, they'll go back and look for a fastball. Do it three times, and I'm not sure what you're looking for. In unrelated news, let's talk about César Valdez.
César Valdez throws a lot of changeups, if you can call his primary pitch that. It's a strange beast – a slow-speed, low-spin offering that seems to dart unpredictably downward as it nears home plate. On May 11 last year, Valdez came into a Mets-Orioles contest in the bottom of the ninth to protect a one-run lead. He started Kevin Pillar off with a slider off the plate:
Down in the count, he came back with a fastball to get a strike – and Pillar nearly tied the game with one swing:
Okay, that wasn't a great fastball. Might be time to re-evaluate things. Valdez came back with his bread and butter, the changeup:
Even though Pillar had just teed off on a fastball, he wasn't tricked into swinging. That put Valdez in a bind. He came back with, you guessed it, a changeup:
That time, Pillar was fooled. He stayed back, but couldn't get a bead on the pitch and took a rather poor swing. He was lucky that it dribbled foul. Despite the grooved fastball and wasted slider, Valdez was back in the driver's seat. With two strikes, it was time to go for a strikeout. Two changeups in a row already? Doesn't matter. Valdez went to it again:
And again:
And again:
It's pretty clear from Pillar's approach that the change in speeds stopped surprising him. He was truly flailing at the first changeup, but keeping his hands back and waiting on the pitch by the time he'd seen five in a row. Now the element of surprise lay in throwing anything but a changeup. So…
Totally fine pitch, if a bit predictable; Pillar just stayed back on it and put the ball in play. That wasn't even a hard-hit ball; the camera angle might make you think so, but it left Pillar's bat at 85 mph. He simply elevated it enough to evade Rio Ruiz's glove – maybe it was technically a grounder, but it played like a line drive. Six straight changeups to Pillar, and Valdez still almost got an out in the infield. It was kind of impressive, really, despite the hit.
His next pitch? Changeup number seven:
Jonathan Villar wasn't even close to fooled, and he tattooed it. Sure, he hit it on the ground, but that ball was smashed. Maybe this all changeups plan isn't so great when batters are sitting back and waiting on them.
Brian McCann was next, and things were looking dicey for the O's. Valdez hadn't showed he could throw anything other than a changeup effectively, and the Mets were waiting on it. McCann decided on a surprise bunt attempt, and wouldn't you know it, Valdez threw a changeup, an ideal pitch to bunt:
Whoops! With the sneak attack bunt off the table, what next? Yeah:
And yeah:
Sometimes you just have to tip your cap. McCann absolutely knew what was coming, and Valdez just used his location to win anyway. It helps when you can throw a wipeout changeup in addition to spotting it in the strike zone. One down, and two to go: Valdez was starting to go full McCullers and had a chance to escape the jam.
In the interest of brevity, I'm turning the next at-bat into a supercut. How did Valdez attack Dominic Smith? With a changeup, and then a changeup, and then a changeup:
I'm past trying to analyze this, because the Mets were just camping on the pitch by this point. Smith didn't literally spit on those first two, but he probably had time to. He didn't hit the last ball quite as hard as it looked off the bat, but he drove it in the gap, which led to a game-tying single and a lovely Austin Hays dive that was juuuuuust a bit short:
Even worse, the errant relay throw let Villar pick up an extra base. First and third, one out, tie game: it was time to bear down. And by bear down, I of course mean throw some more changeups. Hope you're ready for it, Patrick Mazeika:
At 0-2, it seemed possible that Mazeika wasn't ready for it. He somehow swung out of his shoes on that 0-1 pitch despite basically knowing it would be a changeup. Did Valdez have the Mets right where he wanted them?
He was up to 15 straight changeups, and stood a chance of escaping the inning anyway. Here's my changeup, good luck hitting it. But if you throw a changeup without much break in the 70s, it can be hard to get a swinging strike. Mazeika was dialed in after that one awkward swing; he swung at the pitches in the zone and took the ones out of it:
Finally, on 2-2, the stalemate ended. Mazeika managed to straighten one out:
And that was that. Valdez's quest to throw only changeups forever resulted in two runs, a blown save, and a loss. Even worse, he ended up with only 21 straight changeups, three short of the mark McCullers achieved with curveballs. I feel shortchanged; I wanted to see Valdez throw as many changeups in a row as possible. Watching the Mets sit back and try to tee off on it, and only sort-of succeed – their four batted balls in the inning weren't exactly awe-inspiring, they just found holes – was a thrill ride, not something you'd normally expect from a closer whose fastball sits in the 80s in a game between the Orioles and Mets. Not only that but it really might have been his best plan — his lone fastball, after all, flew 361 feet in the air after Pillar turned on it.
So, that's the most changeups anyone threw in a row in 2021. Valdez wasn't alone in his just-keep-throwing-changeups plan, though he certainly dominated the leaderboard:
Most Consecutive Changeups, 2021
Wilkerson and Burns were just doing mop-up duty, but Crismatt, Phillips Valdez, and Williams all used a pile of changeups at various points while being real pitchers. None of them throw a standard changeup, either, which kind of makes sense: if you're going to show a batter an offspeed pitch that many times in a row, it better do something unique.
Will Valdez be able to exceed the 24-straight-changeup mark in 2022? I don't think so – even the bottom of the Mets lineup was able to adjust and tee off on it – but I certainly hope so. Baseball could use more all-changeup outings, and more weird stuff in general. So sure, you can throw a curveball a lot of times – but if a pitcher really wants to impress me, they'll come after Valdez's changeup mark. Your move, Devin and Nabil.