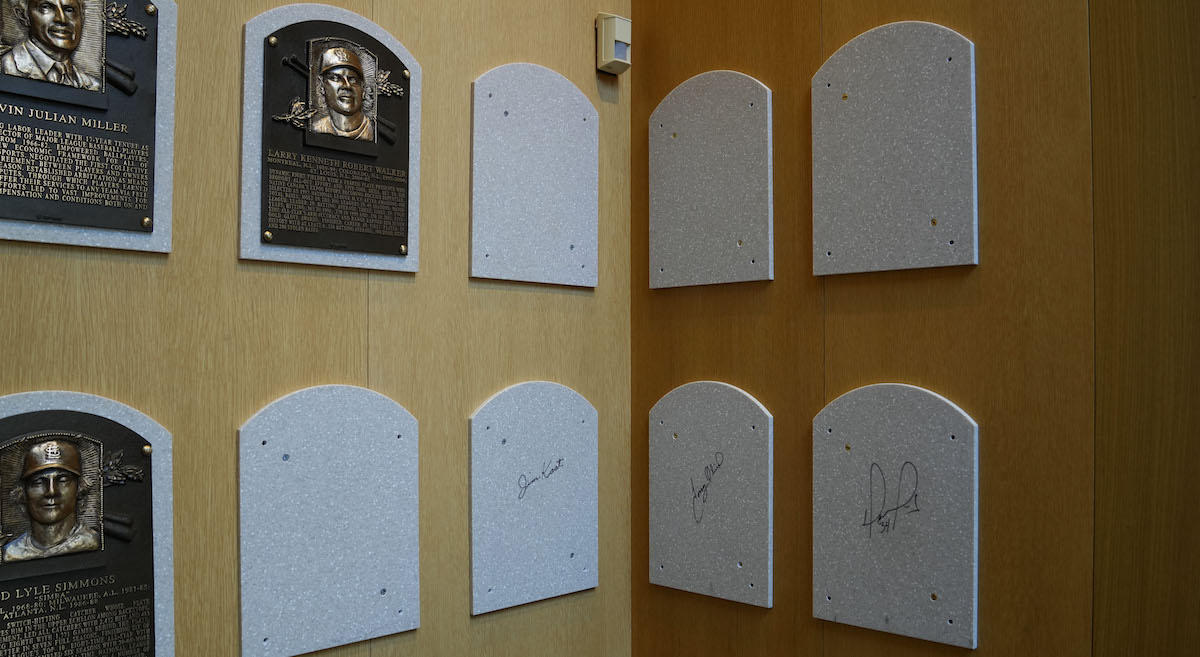 Cooperstown Notebook: Back to the Sixties, Part 1
© Gregory Fisher-USA TODAY Sports
Back in the spring, when the existence of the 2022 season — or at least one that started on time and ran 162 games — was anything but a certainty due to the owners' lockout, I embarked on an open-ended Hall of Fame-related project centered around starting pitchers. Having already taken a swing at modernizing JAWS to better account for the changes in starter workloads that have occurred over the past century and a half, I turned my focus to the demographic disparities among enshrined starters, and examined the cream of the crop still outside the Hall, getting as far as those born in the 1950s.
You're forgiven if this all seems pretty hazy or even unfamiliar, and perhaps confused as to why I'm bringing this up now. With the season in its final week but containing only minimal drama as far as the races go (pour one out for Team Entropy), it struck me that it might be my last chance to delve into the topic until after the playoffs, and so here we are.
I intended to continue this Cooperstown Notebook series during the season, particularly in light of the late-April announcement of the Hall reconfiguring its Era Committee process yet again. Up for election in December will be players on the Contemporary Baseball ballot, defined as those who made their greatest impact from 1980 to the present day. The eight-candidate ballot, which will be announced in November, will almost certainly include the obvious candidates who fell off recent writers' ballots, namely Barry Bonds, Roger Clemens, Curt Schilling, and Fred McGriff. It will also likely include the holdovers who received significant support on the 2020 Modern Baseball ballot and have been classified as belonging to this period, namely Dwight Evans and Lou Whitaker (Dave Parker and Steve Garvey belong to the Classic Baseball period, next up in December 2024).
As for holdovers from the 2019 Today's Game ballot (the one from which Lee Smith and Harold Baines were elected), all of them except Lou Piniella (who's now qualified for the Contemporary Baseball Managers, Umpires, and Executives ballot, to be voted upon in December 2023) received "fewer than five votes" out of 16 that year. From that group, Orel Hershiser was one of two pitchers in my review of pitchers born in the 1950s who received my recommendation in light of S-JAWS, though that hardly guarantees him another ballot appearance. Dave Stieb, who's never graced an Era Committee ballot after going one-and-done on the writers' ballot in 2004, is the other hurler from that period whose case merits a closer look in light of S-JAWS, but I'm not holding my breath that he'll be on there.
To backtrack a bit, I fell down this rabbit hole because as things stand only nine starting pitchers born in 1950 or later are enshrined. As a percentage of pitchers with at least 2,000 innings — a practical cutoff but not an absolute one (Dizzy Dean is the only enshrined starter from the NL, AL, and bygone white leagues with fewer) — that's far lower than what came before:
Hall of Fame Starting Pitchers by Birth Decades
Birth Decade
Qual. (2,000 IP)
HOF SP
Pct HOF
<1870
47
7
14.9%
1870-1879
38
7
18.4%
1880-1889
30
9
30.0%
1890-1899
35
6
17.1%
1900-1909
33
5
15.2%
1910-1919
16
2
12.5%
1920-1929
22
6
27.3%
1930-1939
31
8
25.8%
1940-1949
51
7
13.7%
1950-1959
45
2
4.4%
1960-1969
44
5
11.4%
1970-1979
33
2
6.1%
<1900
151
29
19.2%
1900-1929
71
13
18.3%
1930-1949
82
15
18.3%
1950-1979
122
9
7.4%
Why should we care about this demographic dip? Mainly because we want to equitably represent more recent eras, though doing so requires an understanding that our standards need some tweaking to reflect the evolution of the starting pitcher. While voters have moved past the 300-wins-or-bust mentality by electing Bert Blyleven, Roy Halladay, Pedro Martinez, Jack Morris, Mike Mussina, and John Smoltz along with 300-winners Tom Glavine, Randy Johnson, and Greg Maddux, there are additional candidates from the not-too-distant past who are worthy of recognition, pitchers who may not be significantly better than the average enshrinee (the original stated goal of the JAWS project) but who would hardly be out of place within the broader spectrum of those already honored.
This shouldn't be taken as a literal call for current and future voters to open the floodgates and elect players to the point that the percentages above are dead even; particularly with the Era Committee reconfigurations, electing anybody might prove to be a tall task. I'm hopeful that eventually we can boost the rates of election for pitchers of more recent vintage while keeping in mind that the somewhat looser standards make it apparent that a few guys from the more ancient eras look even stronger in the light of S-JAWS than in JAWS.
Like JAWS, S-JAWS — which is now the default at Baseball Reference's Starting Pitcher page — uses an average of a pitcher's career and peak WAR (best seven seasons at large) for comparisons to the averages of all Hall of Fame pitchers. The idea behind S-JAWS is to reduce the skewing caused by the impact of 19th century and dead-ball era pitchers, some of whom topped 400, 500, or even 600 innings in a season on multiple occasions. I've chosen to do this by prorating the peak-component credit for any heavy-workload season to a maximum of 250 innings, a level that the current and recent BBWAA candidates rarely reached, and only one active pitcher (Justin Verlander) has, albeit by a single inning a decade ago. The various emphases on pitch counts, innings limits, and times through the order make it unlikely we'll see such levels again, at least on a consistent basis, and while we can debate, lament, and discuss whether it's worth trying to reverse that trend, that's not my focus. Given the current trends in the game regarding starting pitcher usage, it might make more sense 5-10 years from now to look at candidates on a 200-225 inning basis, but for now this is a reasonable place to start the adjustments.
In this piece I breezed through the pre-1900, 1900-29, and 1930-49 periods to identify the starters among the top 100 in S-JAWS who are outside the Hall, and here I went through those born in the 1950-59 period. At last we get to the 1960-69 group, which is better represented within the Hall than the decades on either side because that period produced a bumper crop of very good hurlers. Here are the ones who fall within the top 100, meaning with an S-JAWS of 43.3 or higher:
Starting Pitchers Born 1960-1969
Name
Born
WAR
WAR7
WAR7Adj
JAWS
S-JAWS
Yrs
W-L
ERA
ERA+
Roger Clemens
1962
139.2
65.9
64.0
102.6
101.6
1984-2007
354-184
3.12
143
Greg Maddux+
1966
106.6
56.3
55.6
81.4
81.1
1986-2008
355-227
3.16
132
Randy Johnson+
1963
101.1
61.5
60.4
81.3
80.8
1988-2009
303-166
3.29
135
Mike Mussina+
1968
82.8
44.5
44.5
63.6
63.6
1991-2008
270-153
3.68
123
Curt Schilling
1966
79.5
48.6
47.5
64.0
63.5
1988-2007
216-146
3.46
127
Tom Glavine+
1966
80.7
44.1
44.1
62.4
62.4
1987-2008
305-203
3.54
118
Kevin Brown
1965
67.8
45.2
44.6
56.5
56.2
1986-2005
211-144
3.28
127
John Smoltz+
1967
69.0
38.7
38.5
53.9
53.7
1988-2009
213-155
3.33
125
David Cone
1963
62.3
43.4
43.3
52.8
52.8
1986-2003
194-126
3.46
121
Bret Saberhagen
1964
58.9
43.1
42.3
51.0
50.6
1984-2001
167-117
3.34
126
Kevin Appier
1967
54.5
43.1
43.1
48.8
48.8
1989-2004
169-137
3.74
121
Chuck Finley
1962
57.9
39.5
39.5
48.7
48.7
1986-2002
200-173
3.85
115
Dwight Gooden
1964
52.9
38.9
37.7
45.9
45.3
1984-2000
194-112
3.51
111
SOURCE: Baseball-Reference
The self-inflicted wounds of Clemens and Schilling aside, the best of this group is already in Cooperstown, and I don't need to rehash their credentials here. Of the rest, some might have gotten there with better staying power; of the pitchers I'm highlighting here, only Brown and Finley reached 3,000 innings, a level that all starters who have been elected since Sandy Koufax (1972) reached save for Halladay and Martinez.
Because of the way I designed S-JAWS, none of the six pitchers up for discussion from this batch lose much off their peak scores, but they climb in the rankings. Here's a look at how things changed for the half-dozen I'm covering here, along with a few callbacks from previous installments:
JAWS vs. S-JAWS Ranking Comparison
Pitcher
JAWS
S-JAWS
JAW Rk
S-JAWS Rk
Change
Ahead J
Ahead S
Kevin Brown
56.5
56.2
51
33
18
36
25
Luis Tiant
55.1
53.7
59
44
15
40
32
David Cone
52.8
52.8
65
48
17
45
35
Bret Saberhagen
51.0
50.6
69
57
12
46
41
Dave Stieb
50.4
49.1
72
63
9
47
44
Kevin Appier
48.8
48.8
76
65
11
49
45
Chuck Finley
48.7
48.7
77
67
10
49
46
Orel Hershiser
48.1
47.6
82
75
7
49
47
Dwight Gooden
46.0
45.4
91
87
4
51
49
Above J and Above S refer to the number of Hall of Fame starting pitchers (out of 66) who rank higher than the pitcher in question in the JAWS and S-JAWS ranking (e.g., Brown is outranked by 36 enshrined starters via JAWS, 25 via S-JAWS)
I'll refer back to these. As I did in the Fifties installment, I'll start at the bottom, which isn't to say that I'm arguing on behalf of all of these pitchers.
Dwight Gooden
Of the pitchers here, Gooden is the one who burned most brightly and seemed destined for Cooperstown. A year after being the fifth pick out of Tampa's Hillsborough High School in the 1982 draft, the 18-year-old fireballer struck out 300 in 190 innings at A-level Lynchburg. In 1984, the 19-year-old Gooden arrived on the major league scene with a rising fastball that could reach 100 mph, and a knee-buckling curveball so good his teammates dubbed it Lord Charles instead of the common Uncle Charlie. The kid set a rookie record with a league-leading 276 strikeouts in 218 innings, became the youngest All-Star ever, won NL Rookie of the Year honors, finished second in the NL Cy Young voting behind Rick Sutcliffe (!) and earned the nickname Doctor K. Then in 1985 he turned in a season for the ages, going 24-4, with a 1.53 ERA (229 ERA+) and 268 strikeouts in 276.2 innings, good for the NL Cy Young, the pitchers' Triple Crown (league lead in wins, strikeouts, and ERA), and 13.3 WAR (12.2 pitching, 1.1 offense) — a single-season total that stands as the highest of any pitcher in the live-ball era.
It was mostly downhill from those lofty heights. Though he helped the Mets to a World Championship in 1986, Gooden lost the sizzle on his mid-90s fastball and wasn't nearly as dominant (17-6, 2.84 ERA, 4.3 WAR). Prior to the start of 1987 season, he went into a drug rehabilitation program and missed the Mets' first 50 games; decades later, he admitted that he missed the Mets' World Series parade because he was high in a drug dealer's apartment. He returned from rehab to post a few more good years with the Mets, helping them to the NL East title in 1988 (18-9, 3.19 ERA) while making his fourth and final All-Star team, but he produced just a 103 ERA+ and a total of 23.1 WAR for the 1987-94 span. Shoulder problems stemming from overuse took their toll, as did continued cocaine and alcohol problems. While serving a 60-day suspension for testing positive for cocaine in 1994, he tested positive again and was suspended for the entire '95 season.
Yankees owner George Steinbrenner offered Gooden a chance at redemption once the pitcher's suspension ended, and he responded with a solid season that included a no-hitter and 2.6 WAR, but he was left off the postseason roster as the team won its first World Series since 1978. He bounced around for a few more years, relying on luck and guile more than talent — my pal Nick Stone nicknamed him "Granny Gooden" because watching him pitch was "like watching an elderly woman navigate an icy staircase" — with stops in Cleveland, Houston, and Tampa Bay before a return to the Bronx in 2000.
Like former teammate Darryl Strawberry, Gooden's occasional moments of glory mainly served to remind us — and him — of what might have been. He doesn't gain much ground in the move to S-JAWS, particularly relative to the other pitchers here, and his 0-4, 3.97 ERA record in the postseason doesn't help his cause. His recovery continues to be worth rooting for, however.
Chuck Finley
Aside from Nolan Ryan, no pitcher is as closely associated with the history of the California/Anaheim/Los Angeles Angels as Finley, the franchise leader in wins (165), innings (2,675), pitching WAR (52.0), and a whole bunch of other categories. The Halos tried doubly hard to get the 6-foot-6 southpaw, drafting him in the 15th round in 1984, and again as the fourth pick in the following January's secondary draft. He threw just 41 innings in the minors before being called up to join the bullpen of the ill-fated 1986 AL West champions.
In 1988, Finley finally nailed down a rotation spot, beginning a 12-year run as the team's mainstay, during which he posted a 3.70 ERA (119 ERA+) while averaging 212 innings and 4.3 WAR. He ranked in the AL top 10 in WAR five times in that span, made four All-Star teams, and topped 7.0 WAR three times; over that stretch, only Clemens, Maddux, Cone, and Johnson outproduced his 51.5 WAR, while Brown tied him. His career-high 7.7 WAR ranked second in the league in 1990 as he went 18-9 with a 2.40 ERA, but he finished a distant seventh in the Cy Young voting. He never led the league in Ks, but ranked in the top 10 in 10 out of 12 seasons from 1989-2000, and in the top five in seven out of eight from '93-2000.
Following the 1999 season, Finley left the Angels for Cleveland on a three-year, $25 million deal, which he inaugurated with his fifth and final All-Star season (16-11 4.17 ERA, 4.3 WAR); alas, the club missed the playoffs for the first time in six years. Injuries limited him to 22 starts and an ugly 5.54 ERA in 2001, and he pitched just one more year, a season that was overshadowed by wife Tawny Kitaen (of Whitesnake's "Here I Go Again" video fame) being arrested for spousal abuse for attacking him while driving the night before he was scheduled to make his season debut. Traded to St. Louis late in the year, he finished strong and helped the Cardinals win the NL Central, but chose to walk away from his next potential payday at age 39.
Finley's better than most people remember, but he lacks any kind of hook — a Cy Young Award, a big postseason, a signature accomplishment — that would elevate his Hall of Fame case beyond what his very respectable but hardly overwhelming S-JAWS tells us. Hershiser is below Finley in the rankings, but with his 1988 achievements (NL Cy Young, record-setting scoreless streak, and epic postseason run), three other top-five Cy Young finishes, and additional October success, he's a much more viable, and worthy, candidate for election.
Kevin Appier
An intense competitor with an unorthodox delivery and a killer forkball and slider to complement his fastball, Appier was a first-round pick by the Royals in 1987. He debuted with the club two years later, when Saberhagen was en route to his second Cy Young, and inherited the mantle of staff ace during the team's last gasp at competitive relevance for a generation. From 1990-93, he finished among the AL's top four in ERA three times, and from '90-97, he ranked among the league's top 10 in WAR seven times; his total of 46.4 (5.8 per year) trailed only Clemens and Maddux. His best season was 1993, when he led the AL with a 2.56 ERA and 9.3 WAR, but finished third in the AL Cy Young voting; his 18-8 record was no match for Jack McDowell's 22-10 with a 3.37 ERA and 4.4 WAR (ugh). He made just one All-Star team during this stretch, but certainly deserved more.
A torn labrum cost Appier most of 1998 and a good chunk of his velocity, requiring him to get by on finesse and guile thereafter. The Royals traded him to the A's in mid-1999, and he helped the team to the AL West title the following season while going 15-11 with a 4.52 ERA (104 ERA+). He parlayed that into a four-year, $42 million deal with the defending NL champion Mets, but while "Ape" pitched well in the Big Apple (3.57 ERA, 3.5 WAR), he was traded to the Angels for injured slugger Mo Vaughn the following winter.
Appier turned in a solid season for the Angels (14-12, 3.92 ERA, 1.8 WAR) in 2002, though he was roughed up in the postseason even as the team won the World Series. He struggled the following season due to a torn flexor tendon, however, and drew his release in late July; the Royals picked him up, and he finished out his contract but missed most of 2004, his age-36 season, due to elbow surgery. Comeback attempts in the next two seasons, with Kansas City and Seattle, didn't pan out.
Had it not been for injuries, Appier might have had a real shot at Cooperstown, but the what-ifs only go so far. He deserved much more recognition during what was a very good career, but with just one All-Star appearance, a single season receiving Cy Young votes, and an 0-2, 5.34 ERA record in the postseason, he doesn't have anything that would give his Hall case the traction it would need.
Bret Saberhagen
Though he wasn't Gooden-level, Saberhagen was a pitching prodigy in his own right. A 19th-round pick out of Grover Cleveland High School in Reseda, California in 1982, he spent just one season in the minors before debuting with the Royals one week shy of his 20th birthday, showing up with a 94 mph fastball, a great changeup, and what teammate and future manager John Wathan would call "the curveball of a lifetime."
Saberhagen's solid performance helped win a weak AL West that season, but it was his 20-6, 2.87 ERA performance the following year that had the greater impact. Leading a young rotation to another division title, he garnered his first Cy Young award, topped the circuit with 7.1 WAR, and won World Series MVP honors on the strength of complete-game victories in Games 3 and 7 against the Cardinals, the latter a shutout that helped finish an umpire-aided comeback from a three-games-to-one deficit.
Saberhagen struggled the following year, (7-12, 4.15 ERA, 2.0 WAR), beginning an unfortunate pattern of strong odd-numbered years and lackluster even-numbered ones that included his first All-Star selection in 1987 and a second Cy Young in '89 (23-6 with a league-low 2.16 ERA and league-high 9.7 WAR), slotted between sub-.500 records and league-average-ish ERAs in '88 and '90. Notably, injuries were part of the pattern; arm troubles limited him to 25 starts in 1986 and surgery to remove bone chips in his elbow cut him to 20 starts in '88. Through his eight seasons in Kansas City, he went 36-48 with a 3.70 ERA and 10.9 WAR in the even years, and 74-30 with a 2.85 ERA and 29.9 WAR in the odds — nearly triple the value!
In the last of those seasons, Saberhagen pitched his first no-hitter, against the White Sox on August 26, 1991, but also missed a month due to tendinitis in his shoulder; even so, his 5.1 WAR ranked eighth in the league. After the season, the Royals, who had grown increasingly wary of his $2.95 million price tag, traded him to the Mets in a five-player deal that included Gregg Jefferies and Kevin McReynolds heading in the other direction. Alas, tendinitis in his right index finger and a torn medial collateral ligament in his right knee limited Saberhagen to 34 starts over his first two seasons in New York. While injured, he made headlines and was docked a day's pay for spraying bleach at reporters as a poorly-received practical joke during the Mets' dismal 59-103 season in 1993. He made his third All-Star team in the strike-shortened 1994 campaign, going 14-4 with a 2.74 ERA and an 11.0 strikeout-to-walk ratio. He finished second in the NL in WAR (5.5) and third in Cy Young voting while turning in his first good season in an even-numbered year.
Unfortunately, he couldn't keep it up. Saberhagen made 25 just starts in 1995, during which he was traded from the Mets to the Rockies, and while he helped the upstart third-year expansion team claim the NL Wild Card, he was pummeled in his lone postseason start by the Braves. He missed all of 1996 due to a pair of shoulder surgeries, the first to repair ligament damage shortly after the '95 season ended, his second the following May, to implant a titanium anchor to hold his rotator cuff together. After the Rockies declined their $5 million option on him in late 1996, he signed with the Red Sox and spent most of the '97 season rehabbing, pitching in just six late-season games. It paid off. In 1998, the 34-year-old Saberhagen went 15-8 with a 3.96 ERA while making 31 starts, his highest total since 1989, and helped the Red Sox claim the AL Wild Card. Despite three separate trips to what was then the DL in 1999, he pieced together a strong follow-up, with a 2.95 ERA and 3.8 WAR in 119 innings.
His shoulder was in no shape to continue. Where Dr. David Altchek recommended orthopedic surgery to clean up Saberhagen's frayed rotator cuff, he didn't expect to discover a 90% tear when he operated. Not until July 27, 2001 would Saberhagen take a major league mound again, but on that day he spun six innings of one-run ball for his 167th and final major league win. Alas, that was followed by two rough outings, more pain, and one final trip to the DL. He retired that winter at age 37; as of 2007, when I first wrote up his Hall of Fame case, he held the record with 1,016 days on the disabled list.
Given how much time he spent convalescing, rehabbing, or pitching through injuries, it's remarkable how well Saberhagen did pitch. As I noted in the previous installment of this series, despite not debuting until 1984 and missing some time thereafter, he ranked seventh in WAR during the '80-89 span. Extend that for a second decade and his ranking is even more impressive:
Pitching WAR Leaders 1980-99
Rk
Player
Yrs
Age
IP
W-L
ERA
ERA+
WAR
WAR/250
1
Roger Clemens
1984-1999
21-36
3462.1
247-134
3.04
147
103.6
7.5
2
Greg Maddux+
1986-1999
20-33
3068.2
221-126
2.81
144
75.2
6.1
3
David Cone
1986-1999
23-36
2590.0
180-102
3.19
129
60.8
5.9
4
Bret Saberhagen
1984-1999
20-35
2547.2
166-115
3.33
126
59.0
5.8
5
Dave Stieb
1980-1998
22-40
2766.0
168-129
3.40
123
55.1
5.0
6
Orel Hershiser
1983-1999
24-40
3105.2
203-145
3.41
114
53.3
4.3
7
Randy Johnson+
1988-1999
24-35
2250.0
160-88
3.26
134
52.2
5.8
8
Chuck Finley
1986-1999
23-36
2675.0
165-140
3.72
118
52.0
4.9
9
Kevin Brown
1986-1999
21-34
2430.2
157-108
3.27
127
51.6
5.3
10
Mark Langston
1984-1999
23-38
2962.2
179-158
3.97
107
50.0
4.2
11
Jimmy Key
1984-1998
23-37
2591.2
186-117
3.51
122
49.0
4.7
12
Dwight Gooden
1984-1999
19-34
2695.2
188-107
3.46
111
47.4
4.4
13
Frank Viola
1982-1996
22-36
2836.1
176-150
3.73
112
47.1
4.2
14
Kevin Appier
1989-1999
21-31
1889.1
121-94
3.54
128
46.8
6.2
15
Tom Glavine+
1987-1999
21-33
2659.2
187-116
3.38
120
46.2
4.3
SOURCE: Baseball-Reference
+ = Hall of Famer. WAR/250 = Wins Above Replacement per 250 innings pitched.
That's one hell of a pitcher. By S-JAWS, Saberhagen has some separation above the previous trio as well as Hershiser and Stieb, and rankings-wise, he's in the same neighborhood as Hall of Famers as disparate as Jim Bunning, Pud Galvin, and Don Sutton, not to mention CC Sabathia. His overall postseason numbers (2-4, 4.67 ERA in 54 innings) aren't great, but between his 1985 heroics and his two Cy Youngs, he's got a legitimate case.
Spoiler alert: so to do the last two pitchers on my list, Cone and Brown, but that will have to wait for my next installment.