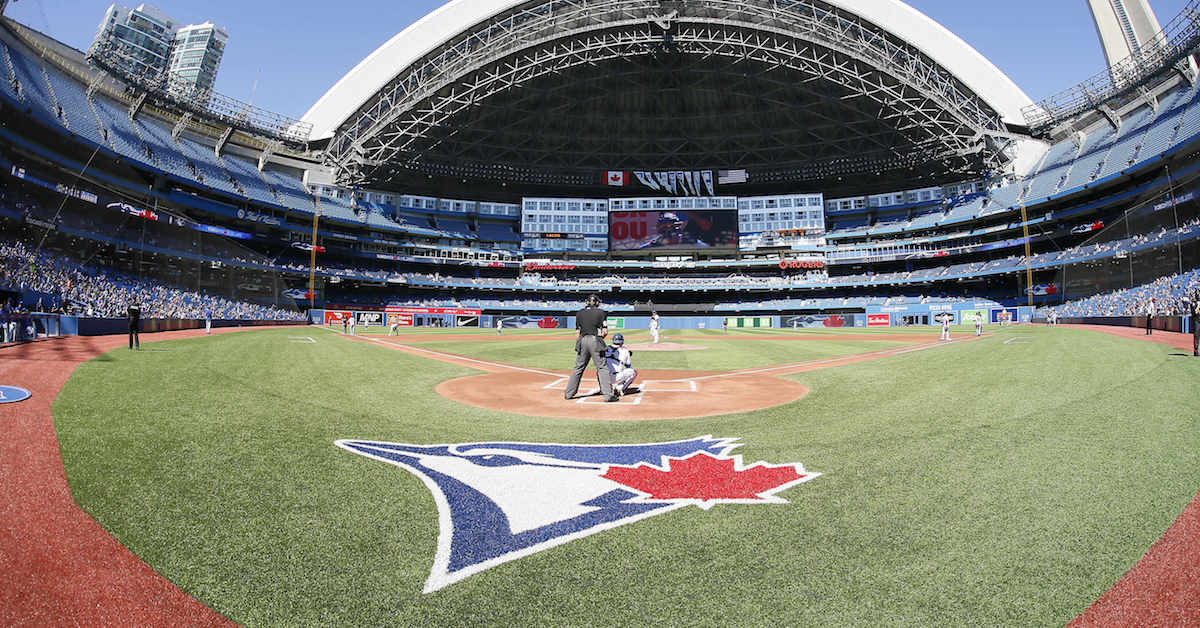 A Conversation With Toronto Blue Jays Prospect Samad Taylor
Samad Taylor stepped up his game last year. After at times disappointing at the dish in his early seasons of professional baseball, the 23-year-old infielder/outfielder broke out to the tune of a .294/.385/.503 slash line with Double-A New Hampshire. Moreover, he showed surprising pop for a player who profiles as more of a table-setter than a middle-of-the-order masher. Carrying 170 pounds on his 5-foot-10 frame, Taylor left the yard 16 times in 374 plate appearances. He also swiped 30 bases.
The Corona, California native came to Toronto via trade. Cleveland's 10th-round pick in the 2016 draft, Taylor changed organizations the ensuing summer in the deal that sent sidearmer Joe Smith to the shores of Lake Erie. First featured here at FanGraphs following a statistically-poor 2018 season, Taylor proceeded to scuffle again in 2019, then miss an entire season, as did his minor-league brethren, due to the pandemic. As evidenced by his 2021 output, the changes he began making over the COVID shutdown — mental and physical alike — proved a panacea.
Taylor will enter the upcoming campaign ranked No. 36 on our Toronto Blue Jays Top Prospects list.
———
David Laurila: This past year was by far your best in pro ball. What changed?
Samad Taylor: "It was just understanding myself as a ballplayer, understanding what my approach is. In previous years, I was in the box trying to do too much. I would come up in certain situations and try to be the hero, when in reality, being a hero wasn't necessary. I didn't understand that. I didn't understand myself as a hitter.
"Believe it or not, the COVID year was the best thing that happened for me, because all I had was time to sit back and learn. I could just watch the game and be a student of it. I may not know every single thing about the game now, but I know how to be a student of the game."
Laurila; What can a player learn by sitting back and watching?
Taylor: "For me, it started with Mookie Betts. I was watching an at-bat — I can't remember who exactly it was against — and he chased an 0-0 curveball in the dirt. It was nowhere near the strike zone. He had a reaction like, 'Damn, I shouldn't have been swinging at that; I was cheating at something, and this and this and this.' He ended up walking. It was a seven-plus-pitch at-bat where he was taking pitches just off the black. They were maybe a centimeter out of the zone, and he knew they were balls. I was like, 'Dang,' And when he gets his pitch, Mookie never really misses his pitch. I was like, 'What is he doing in the box to take these pitches? What is his preparation to know exactly what the strike zone is?'
"After that at-bat, I went on YouTube and typed in 'Mookie Betts offensive highlights.' I realized that when he gets in hitter's counts, and gets pitches in the heart of the zone, they're not missed. I was telling myself that whole time, during COVID, that the best hitters make mistakes. Mike Trout strikes out 100 times a year. But if I can minimize the major rollercoasters and… I guess what I'm saying is that you're not always going to be successful. There are going to be rollercoasters, there are going to be ups-and-downs, and if you can minimize the time it takes to go from down to up… that's going to be the separator.
"I took that into spring training, and did it work for me? Not really. But I started to recognize the zone more and more, and then once the season came around… I had also made a couple of drastic adjustments with my stance, and what I was doing in the box. I started to apply certain things, and from there, I took off."
Laurila: It sounds like the mental adjustments were every bit as important as the physical ones. Have you worked with a mental skills coordinator?
Taylor: "I have. [The Blue Jays] have a mental performance coach that I was working with while I was in Australia, playing winter ball in the COVID year. This was over Zoom. I'm hard on myself. Like, I'm a super-big critic, because I know the talent I have and what I can do. I also know that when I'm doing something that isn't right, I'm not going to get away with it. So I'm super duper, duper, duper hard on myself.
"Talking to my mental performance coach, I realized that I had to take a step back. I play a game of failure. When I was early on in my career — those first couple of years — I couldn't accept failure. I didn't know how to accept striking out, or accept making an error, or whatever the failure may have been. Over the COVID year, I began to understand that I needed to take a step back and learn how to accept things."
Laurila: That said, the better mental approach still needed to translate to actual physical performance…
Taylor: "One thing I did was accept certain things in the box. For example, if a dude is throwing a fastball inner half, is that a mistake? It might be, but do I want to hit this particular pitch? No, not all the time. What I did this past season is accept taking certain pitches in certain counts, unless I had two strikes."
Laurila: You hit 16 home runs this past year. Do you have more pop than most people realize?
Taylor: "Yes and no. It's really just more of knowing my swing, and what I can do on certain pitches. Certain pitches I drive better than other pitches. By working on my particular swing, and my swing only… I was done trying to figure out everybody else's. Once I figured out my particular swing, it was easier to know what type of swing I can take on certain pitches."
Laurila: What were the mechanical adjustments you referred to?
Taylor: "Coming into spring training, I had a wider base and no stride. I kind of swung from my shoulder. I struggled that first week of the season, and I wasn't comfortable in the box, so I went to my hitting coach and was like, 'Dude, I've got to change something.' I told him that I wanted to go back to what I was doing in past years when I felt my best. He said, 'OK, just tell me what it is.' I told him what it was, showed him one swing, and was like, 'All right, let's do it. There are going to be bumps in the road, but we'll get you to the top of it.'
"I narrowed back out. I started back with my leg-kick hovering. The biggest thing was my timing. I have super fast hands, and what I'd done was take away one of my best attributes by swinging at pitches way out in front of the plate. This past season, I trusted my hands more. I waited more, and that gave me a longer time to see the ball and react. Because I have electric hands, I know that a guy isn't going to just blow a fastball by me. I have time to hit pitches that are deep, so I took one of my best tools out of my back pocket and used it at my advantage."
Laurila: Why had you gotten away from that?
Taylor: "I'll be honest. Excuse my language, but I'd hit like shit, so coming into spring training of 2019 I messed with a couple of things. At that point I was seeking results, and while [the changes] didn't feel normal, they felt good. And then there was… I felt there was a big hole in my swing on pitches inner half. I was getting tied up a lot, and with how fast my hands are, I shouldn't be getting tied up on pitches on the inner half. I knew that I had to make an adjustment, but I didn't know what exactly it was. This past year, I was finally able to figure things out."